Buffalo Cauliflower Bites is a recipe that's my attempt to love this cruciferous veggie more. The sauce has got a spicy kick from the buffalo sauce and a hint of sweetness from raw honey. It's soooooo good!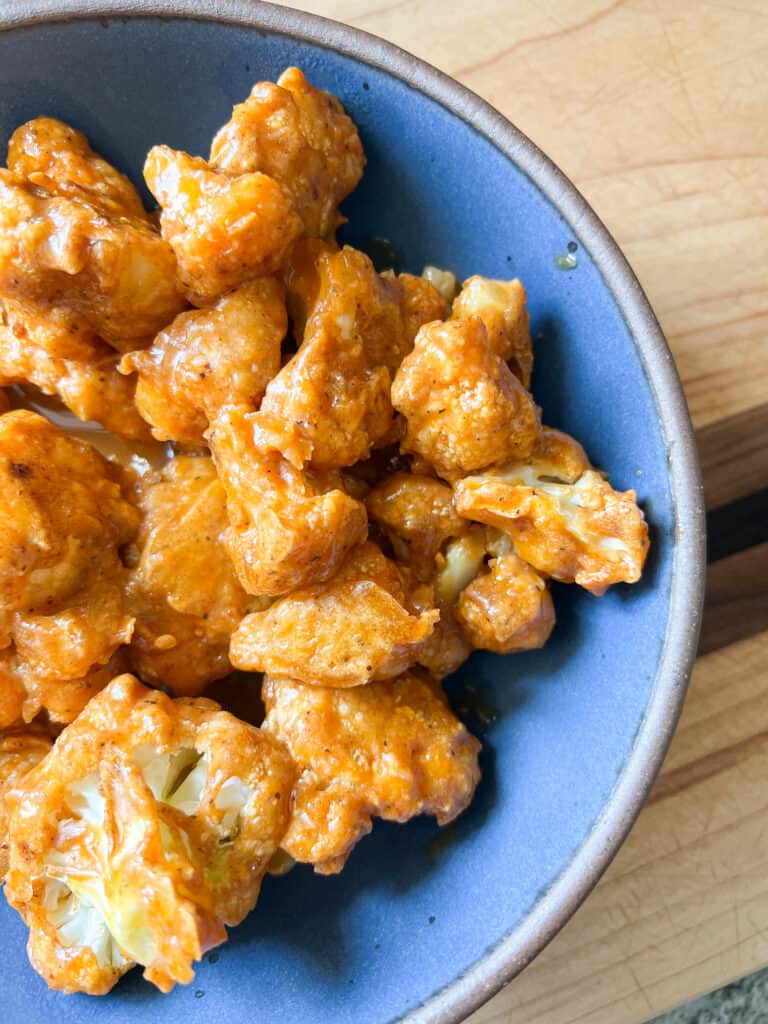 Benefits of Cauliflower
Cauliflower is a nutritious vegetable that offers several health benefits. Some of the benefits of cauliflower are:
Rich in nutrients: Cauliflower is a great source of vitamins and minerals such as vitamin C, vitamin K, folate, and potassium. It is also high in fiber and low in calories, making it a healthy food choice for everyday meals.
Helps with digestion: The fiber in cauliflower can aid in digestion. The high water content in cauliflower can also help keep the digestive system hydrated.
May reduce the risk of cancer: Cauliflower contains antioxidants and sulfur compounds that may help reduce the risk of certain types of cancer, such as lung and colorectal cancer.
May support heart health: The fiber and antioxidants in cauliflower may help lower the risk of heart disease by reducing inflammation and improving cholesterol levels.
Can be used as a low-carb substitute: Cauliflower can be used as a low-carb substitute for rice, pizza crust, and mashed potatoes, making it a great option for people who are trying to reduce their carbohydrate intake. We love using it in smoothies too!
Overall, including cauliflower in our diet can offer several potential benefits for our health. Today, we're making these cauliflower bites that can be used for rice bowls and even tacos.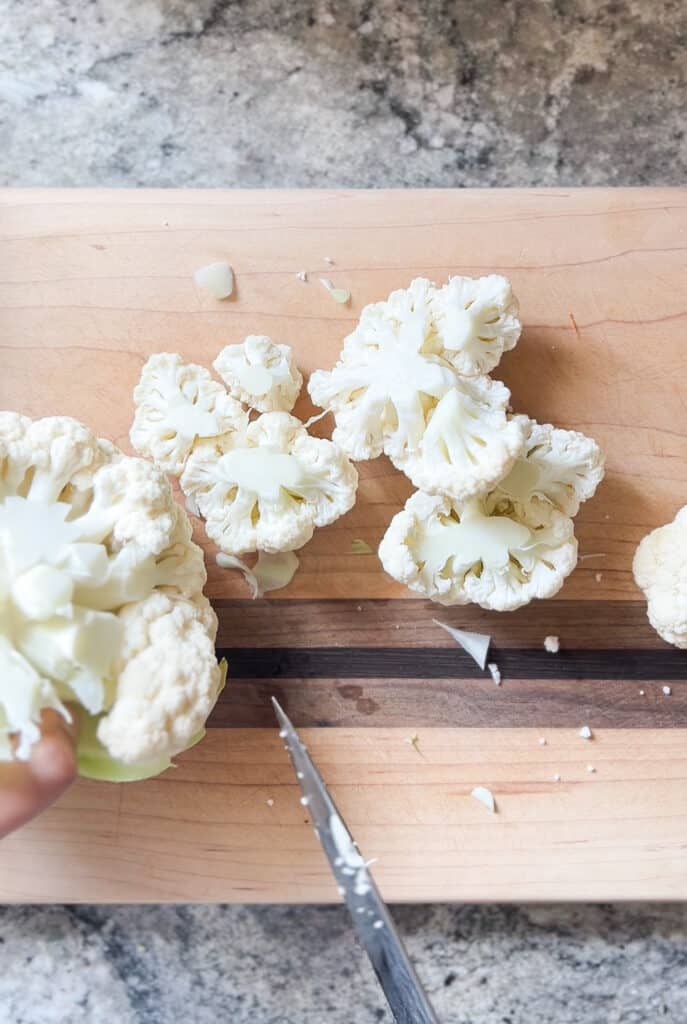 How to Prep the Buffalo Cauliflower Bites
Each time we receive a head of cauliflower in our Sage Mountain Farm CSA, I try different ways to prepare it. Today, these buffalo cauliflower bites are a stellar way to enjoy this vegetable. Here's how we prep it:
First, whisk together your dry ingredients and spices. Next, add in your milk of choice (using almond milk in this recipe today) and whisk to create a slurry that will be the batter.
Cut the cauliflower into florets. Add them to the batter and toss to coat evenly.
Lay all the coated cauliflower on the tray and roast for about 25 minutes until crispy, turning halfway.
While the cauliflower roasts, prep the buffalo sauce by grating the garlic in a large mixing bowl. Add the honey and buffalo sauce then whisk together to combine.
Once done, remove the cauliflower florets from the oven and toss together with the buffalo sauce.
And that's it! You can use this for a rice bowl or, my favorite at the moment, tacos!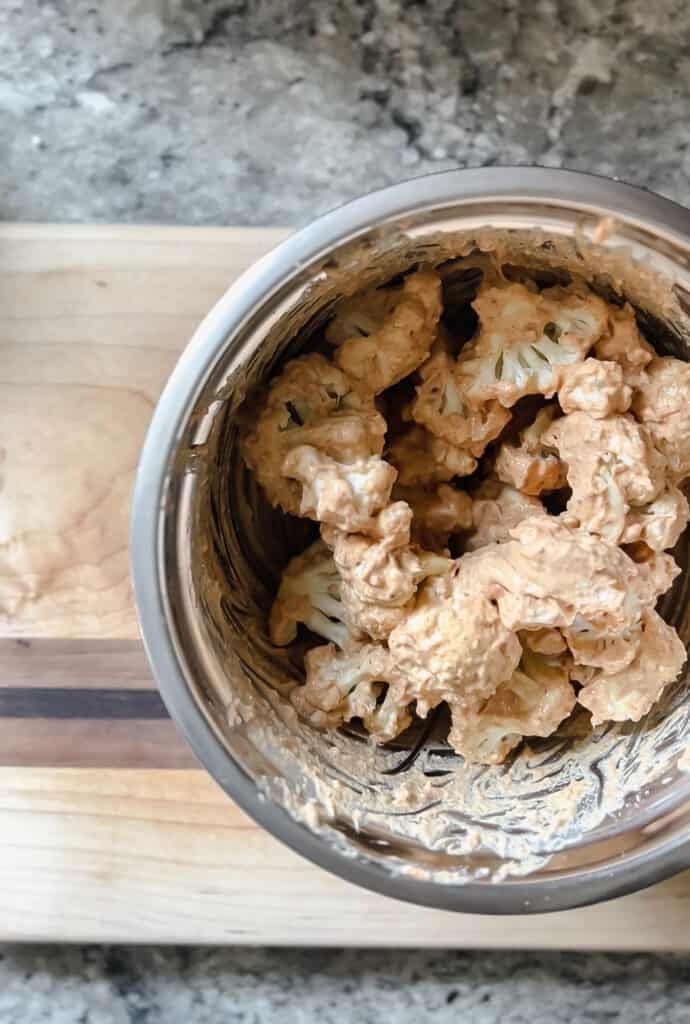 More Ways to Love Cauliflower
Looking for more ways to love cauliflower? Here are a few favorite recipes:
Let me know if you make this recipe by tagging me on Instagram. I can't wait to see what you make!
In the meantime, cheers to the next nourishing meal. ❤️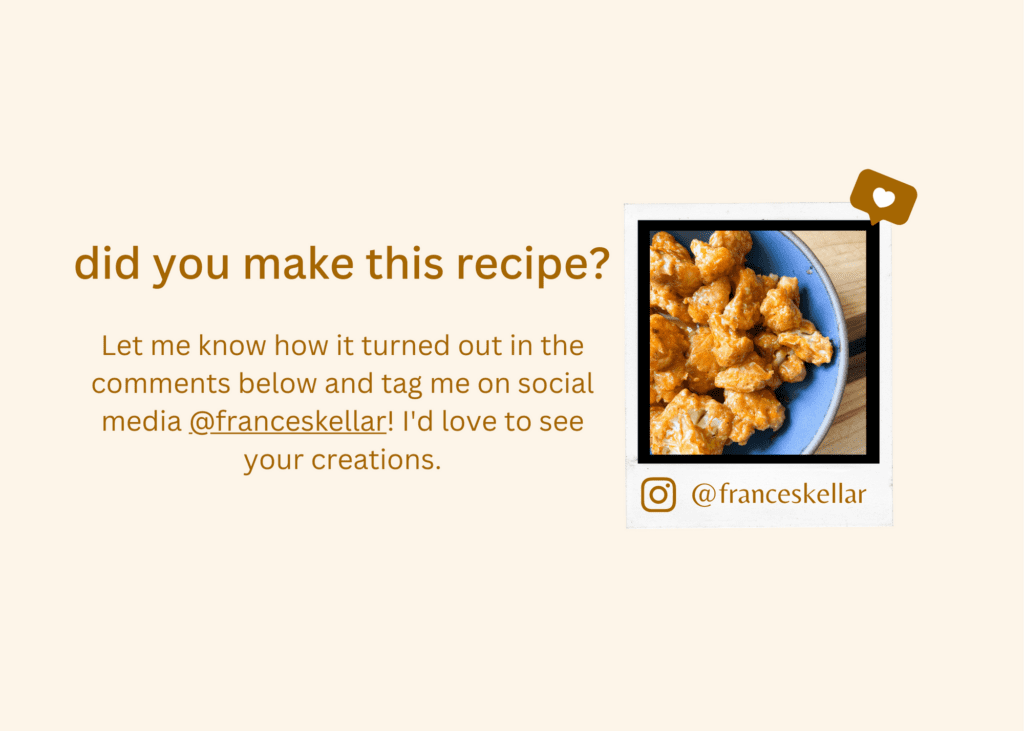 Buffalo Cauliflower Bites
You won't miss the meat here. These Buffalo Cauliflower Bites are a little bit spicy with the right amount of sweetness sure to turn anyone into a cauliflower connoisseur.
Ingredients
1

whole head of cauliflower

about 1 pound, cut into florets

1/2

cup

all-purpose flour

1

teaspoon

paprika

1

teaspoon

kosher salt

1

teaspoon

garlic powder

1

teaspoon

onion powder

1/2

teaspoon

ground black pepper

1/4

teaspoon

cayenne pepper

1/2

cup

unsweetened almond milk

2

tablespoons

raw honey

1/3

cup

buffalo sauce

3

large cloves of garlic, grated

or 6 small cloves
Instructions
Preheat oven to 425 degrees Fahrenheit. Line a rimmed baking sheet with parchment paper.

In a large mixing bowl, whisk together the flour, paprika, garlic powder, onion powder, kosher salt, ground pepper, and cayenne pepper until well combined. Add the milk and whisk together to create a slurry. This will be the batter to coat the cauliflower.

Cut florets into pieces and add to the prepared batter. Using a spoon, mix to evenly coat every cauliflower bite in the batter. Pour out the cauliflower bites on the parchment lined baking sheet and spread them out evenly so they're not too close together to help them crisp up and brown.

Roast the cauliflower for 25 minutes, flipping them halfway, until edges are crisp and golden.

While cauliflower roasts, prepare the buffalo sauce by first grating the garlic into a large mixing bowl. Add honey and buffalo sauce and whisk together until well combined.

Remove cauliflower from oven and immediately toss into the bowl with the prepared buffalo sauce. Stir together to coat the cauliflower in the sauce. Serve immediately.
Notes
Substitution Notes:
Substitute maple syrup for the honey in the buffalo sauce to make this vegan. If doing so, start with one (1) tablespoon maple syrup and add the second based on taste preference. Maple syrup can taste a bit sweeter for me but it may not for you so adjust measurement to your preference here. 
Substitute the almond milk for oat milk, cow's milk, or your milk of choice. All work here.
Substitute gluten-free flour or even almond flour for the all-purpose flour.