Pancakes are a staple in our house and these heirloom blue corn pancakes are an awesome way to change it up! We make pancakes weekly. Check out a few other variations on pancakes: homestyle vanilla with buttermilk and cinnamon to pumpkin with a cinnamon maple syrup. As you can probably tell, we definitely enjoy making delicious spins on a classic breakfast recipe.
Our friends at Masienda shared their beautiful heirloom blue corn masa with us and I've been finding all the creative ways to enjoy this delicious blend. Usually, we'll use masa to make tortillas. We also use to make sopes, tlacoyos, and even my recent recipe for enfrilojadas. There are a myriad of ways to enjoy this earthy, slightly nutty corn flour!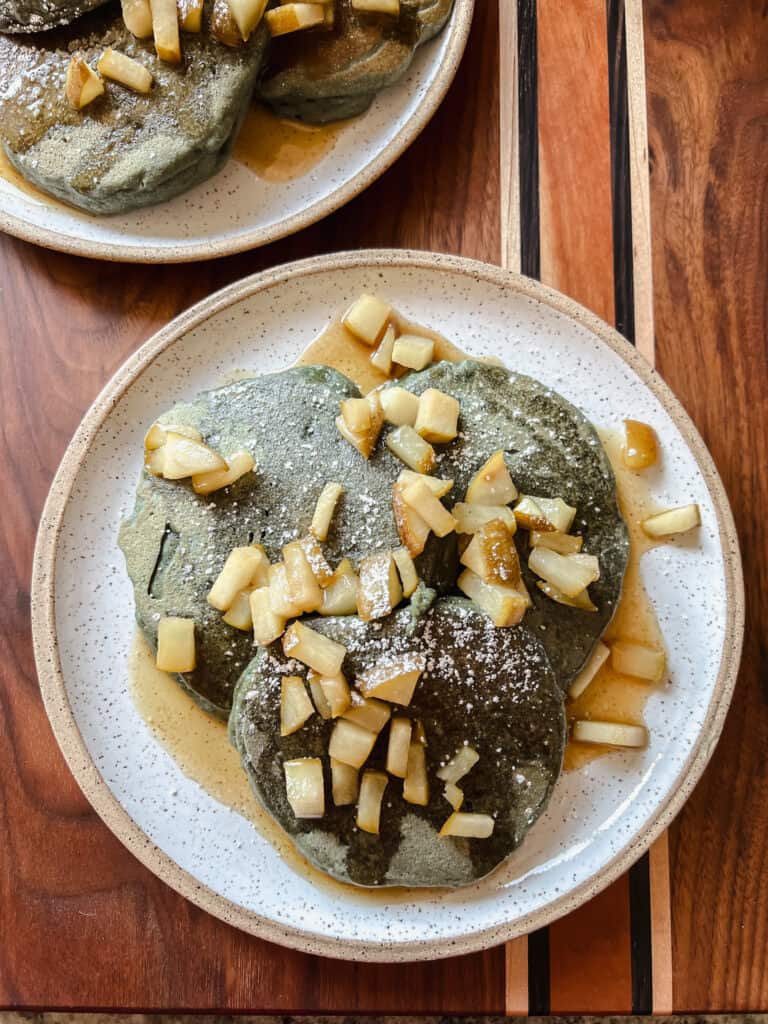 How to Prep Heirloom Blue Corn Pancakes
First, we want to use good quality masa harina. Masa harina is a corn flour that proves a fantastic base for these pancakes. With the addition of whole wheat flour and our key leavening partners, baking soda and baking powder, we create a fluffy and flavorful pancake that elevates the Sunday Stack.
Next, we'll work on making this delicious piloncillo syrup that is a great syrup for these pancakes.
Making the Piloncillo Syrup in this recipe is optional, but it is a deliciously cinnamon flavored syrup that compliments these pancakes.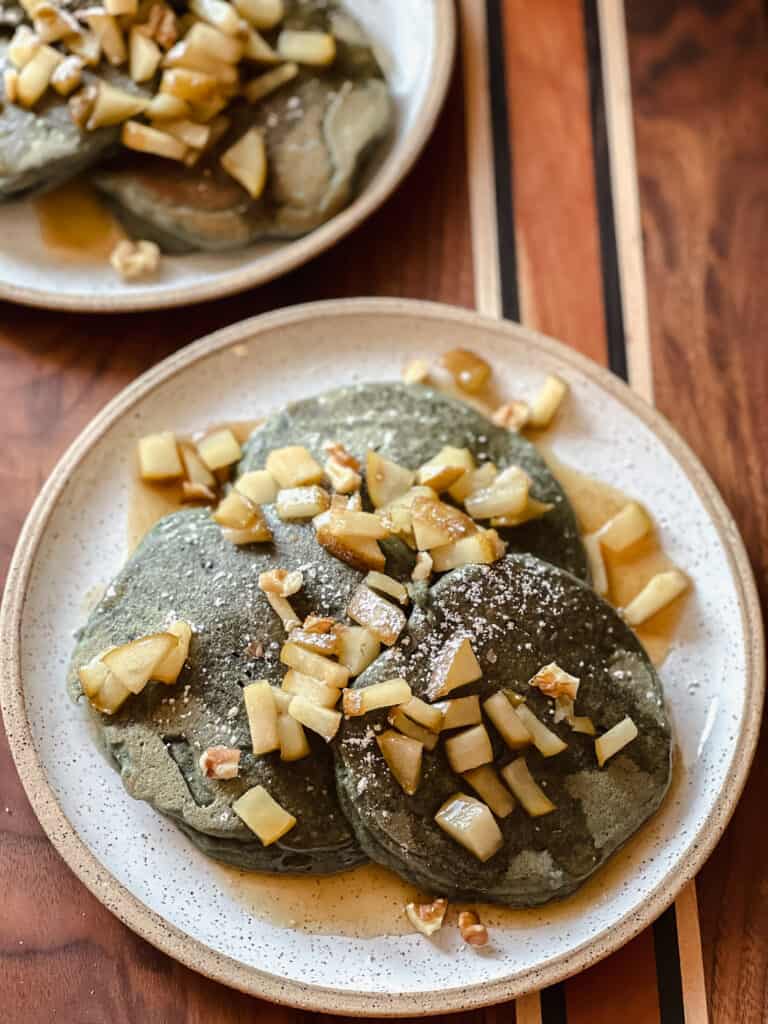 Serve a Crowd or Freeze for Later
This recipe will make approximately 18 pancakes that can serve up to 6 for a big Sunday breakfast. These will also freeze well for up to a month.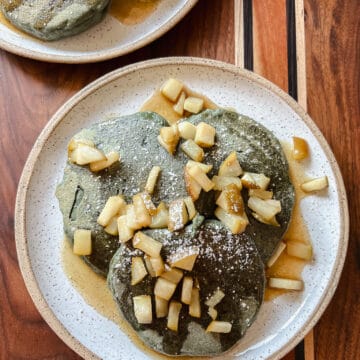 Heirloom Blue Corn Pancakes with Piloncillo Syrup
Sunday breakfasts just got more delicious and flavorful with this heirloom blue corn pancakes. The Piloncillo Syrup is an optional make here, but is definitely a lovely addition to garnish these pancakes that offer an earthy, nutty flavor that still offer a fluffy pancake everyone will enjoy.
Equipment
1 non-stick griddle

1 large mixing bowl

1 medium mixing bowl

1 small heat safe bowl

1 baking rack

plus one baking sheet
Ingredients
For the Pancakes
2

cups

blue corn masa harina

1

cup

whole wheat flour

1

cup

boiling water

cooled for 5 minutes

1/4

cup

light brown sugar

2

teaspoons

baking powder

1

teaspoon

baking soda

4

large eggs

1

cup

buttermilk

6

tablespoons

unsalted butter

melted and slightly cooled
For the Piloncillo Syrup
8

ounces

Piloncillo

1

cup

water

2

sticks cinnamon or canela
Garnish Options
optional garnishes: powdered sugar, toasted chopped walnuts, seasonal fruit
Instructions
Prep the Piloncillo Syrup
To make the piloncillo syrup: place the piloncillo in a medium saucepan and add the 2 cinnamon sticks with 1 cup water. Set heat to low-medium and cover. Bring to a simmer and cook for about 10 minutes, keeping covered with lid, to allow the piloncillo to dissolve into the water.

Remove the lid and continue to cook, stirring frequently, for another 4 to 5 minutes or until the syrup has thickened slightly and all the piloncillo is dissolved.

Gently pour the syrup into a measuring cup fitted with a mesh strainer and discard the cinnamon sticks. This will yield approximately 1 cup. Set aside to cool while you prep the pancakes.
Prep the Pancake Batter
In a medium bowl, gently whisk together 2 cups blue corn masa harina with 1/4 cup lightly packed light brown sugar and 1 teaspoon kosher salt. Add 1 cup of the slightly cooled boiled water and, using a spatula or wooden spoon, gently stir the ingredients together to form the masa. Depending on your geographic area, you might need a little more water. You want the dough to pull together and there should not be any dry masa harina visible. Cover with plastic wrap or reusable food wrap and allow to sit for 10 minutes.

In a small bowl, add the butter then heat in the microwave on 15-20 second intervals until melted. Set aside to cool slightly.

In a large bowl, add the whole wheat flour, baking powder, baking soda, and cinnamon. Whisk together to combine. Add the eggs then begin to whisk together. While whisking, pour the buttermilk in a steady stream. Continue to whisk while pouring the melted butter in a steady stream.

Add the prepared blue corn masa to the large bowl and whisk together to combine. It is okay if there are a few small lumps in the batter, but the blue corn masa mixture should be well incorporated with the whole wheat flour mixture.
Cooking the Pancakes
Heat a non-stick griddle on medium-low heat. Using a ladle or 1/4 cup measuring cup, scoop batter onto the griddle to form your pancakes. Cook until the bottom of the pancake is set and slight bubbles begin to form on the top, about 2 to 3 minutes. Flip and cook the opposite site until the pancake is cooked through, another 2 to 3 minutes. Remove pancakes from the griddle and place on a cooling rack to cool while you prepare the rest of the pancakes.**

To plate, serve 2 to 3 pancakes per person. Top with seasonal fruit of choice, a drizzle of the piloncillo syrup, toasted, chopped walnuts, and a sprinkling of powdered sugar.
Notes
**

You may also place the cooling rack onto a baking sheet and place in a 200 degree Fahrenheit oven to keep warm for up to 30 minutes.
You can freeze any leftover pancakes in the freezer for about a month. To defrost, re-heat in the microwave about 30 to 45 seconds on each side until warmed through. Top with desired garnishes and syrup.