Lately, I've been playing with granola recipes and this Vegan Maple Cinnamon Granola is on repeat here. This is a granola blend you're going to love to have on hand and is especially good if you're looking for a vegan option. Using good quality extra virgin olive oil and maple syrup, we create a fragrant and slightly sweet base for our maple cinnamon granola.
Ingredients for the Vegan Maple Cinnamon Granola
This granola is easy to make and is also customizable to what you have on hand. Here's what we'll need:
Good Quality Olive Oil: My favorite olive oil blends for everyday cooking come from California Olive Ranch. When I use olive oil for baking and I don't want too strong of a pronounced flavor, I use this mild blend.
Maple Syrup: This is the sweetener we're using for this recipe. If you're not wanting to use honey, you can also use date syrup to keep this vegan. Flavor profile may change slightly, but not enough to worry about.
Assorted Nuts & Seeds: We're using a mix of nuts and seeds here. This is where customization really comes into play. Don't have walnuts? Skip it. Don't like pumpkin seeds? Leave them out. Want pecans? Add them. You get the idea.
Organic, non-GMO rolled oats: We want to look for oat brands that are certified organic and non-GMO as they are more likely to not have had glyphosate, an herbicide that is widely used in more than 70 crop varieties from corn to soy to wheat. Recent research highlights implications of glyphosate consumption and the risks to human health. A list of recommended brands can be found here. TLDR: Whole Food 365 Organic Old-Fashioned Rolled Oats as found to have no detected levels of glyphosate; it's also the brand we use for all our oat recipes.
Prepping & Storing Your Maple Cinnamon Granola
Prep time for this granola will take minutes. First, you'll want to whisk up the olive oil, maple syrup, vanilla extract and ground cinnamon. Next, in a separate bowl stir together the oats, nuts, seeds, and shredded coconut. Then, pour in the olive oil and maple syrup mixture and stir everything together until well combine. Bake the granola on a lower heat for about 45 minutes, stirring every 15 to 20 minutes to help evenly toast the granola. Allow to cool completely before storing.
This Vegan Maple Cinnamon Granola will keep in an airtight jar for a couple of weeks up to a month. You can also freeze it! Frozen granola will keep in a freezer safe resealable bag for up to six months. Just defrost overnight before use. It's perfect for yogurt bowls, vegan chia pudding, a crunchy garnish for a smoothie bowl, or even with a splash of your favorite milk. I know: It's not muesli, but I love the crunch of this granola so much that it's so good with a splash of oat milk for a quick snack.
More Granola Ideas
This bank of granola recipes will continue to grow. The beauty is that there are so many variations to mix it up. Stay tuned for more granola recipes here! For now, enjoy this other option for your morning meal: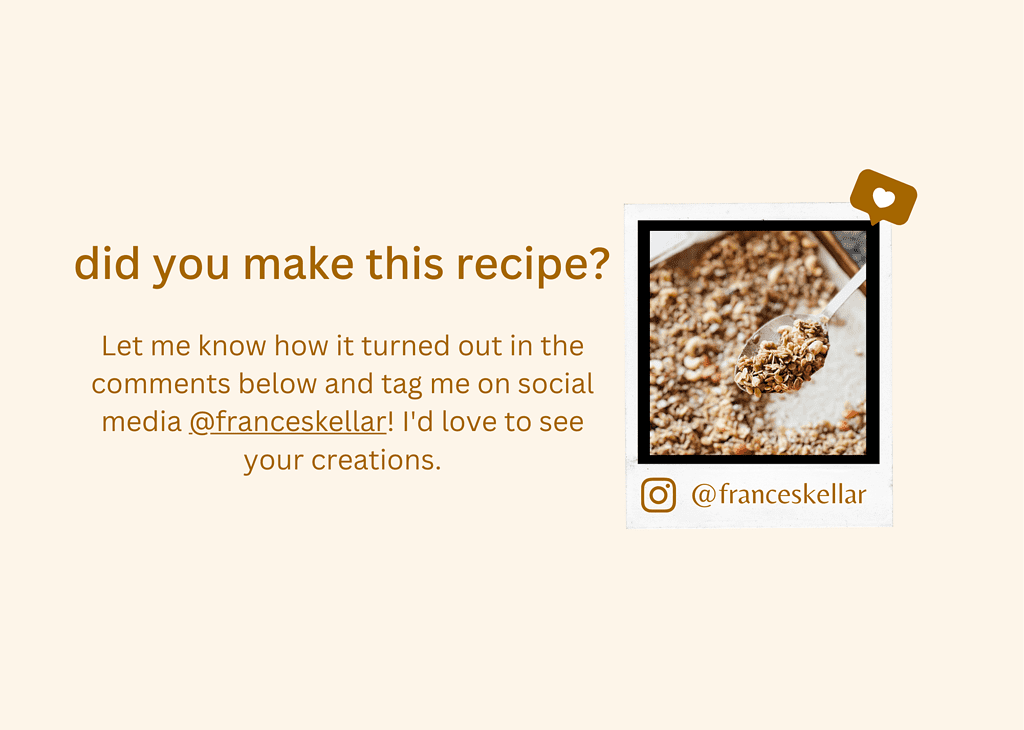 Vegan Maple Cinnamon Granola
Olive oil and maple syrup work beautiful in this vegan version of my honey nut granola. It's a breakfast staple worth having on hand for quick mornings.
Ingredients
1/4

cup

cashews

1/4

cup

walnut halves

1/4

cup

sliced almonds

1/4

cup

whole almonds

2

tablespoons

pumpkin seeds

1

tablespoon

sunflower seeds

2

cups

rolled oats

2

tablespoons

unsweetened shredded coconut

2

tsp

cinnamon

1/4

cup

olive oil

1/4

cup

maple syrup

1

tsp

vanilla extract

1/2

teaspoon

kosher salt

2

tablespoons

dried currants, blueberries, or raisins

optional
Instructions
Preheat oven to 250 degrees Fahrenheit. Line a large rimmed baking sheet with parchment paper.

In a small mixing bowl, whisk together maple syrup, cinnamon, vanilla extract, and olive oil until well combined.

In a large bowl, stir together the assorted nuts, seeds, oats, and unsweetened shredded coconut. Pour in maple syrup mixture and stir together until well combined.

Spread granola in an even layer on the prepared baking sheet. Bake granola for 45 to 50 minutes, stirring granola every 15 to 20 minutes. Granola should appear golden and toasted. It should smell fragrant, slightly sweet and nutty. Remove from oven to cool.

Cool granola completely before storing. Store granola in a jar with tight fitting lid at room temperature for up to a month.