Taco Tuesday just got all the more delicious with these Buffalo Cauliflower Tacos. We're using up the Buffalo Cauliflower Bites here to make these delicious tacos. They definitely give me the confidence boost that I could eat more plant-based meals.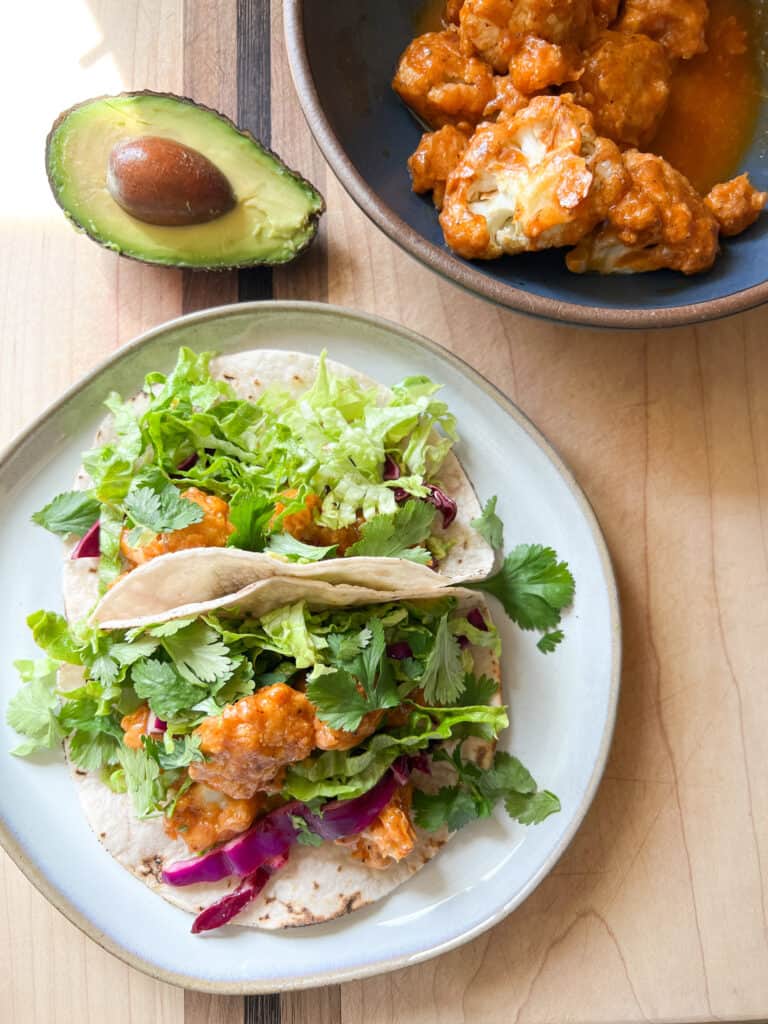 Simple Ingredients, Loads of Flavor
I love a good recipe that requires just a handful of ingredients but is loaded with flavor. These buffalo cauliflower tacos are just that. Because the cauliflower we're using here has so much flavor from the buffalo sauce, garlic, and honey, we don't need much more to make these tacos. A bit of shredded lettuce, quick pickled cabbage, tortillas, and mashed avocado will be perfect here.
Also, these grain-free and gluten-free tortillas from Coyotas were a stellar find at Expo West! Based in San Diego, this small business makes small batch tortillas using cassava flour, organic coconut oil, sea salt, and water. These are a great option for those looking for a great tasting tortilla. They're pliable and a delicious option for the days when I crave flour tortillas but want something lighter. You can shop this brand directly here. Shipping is quick!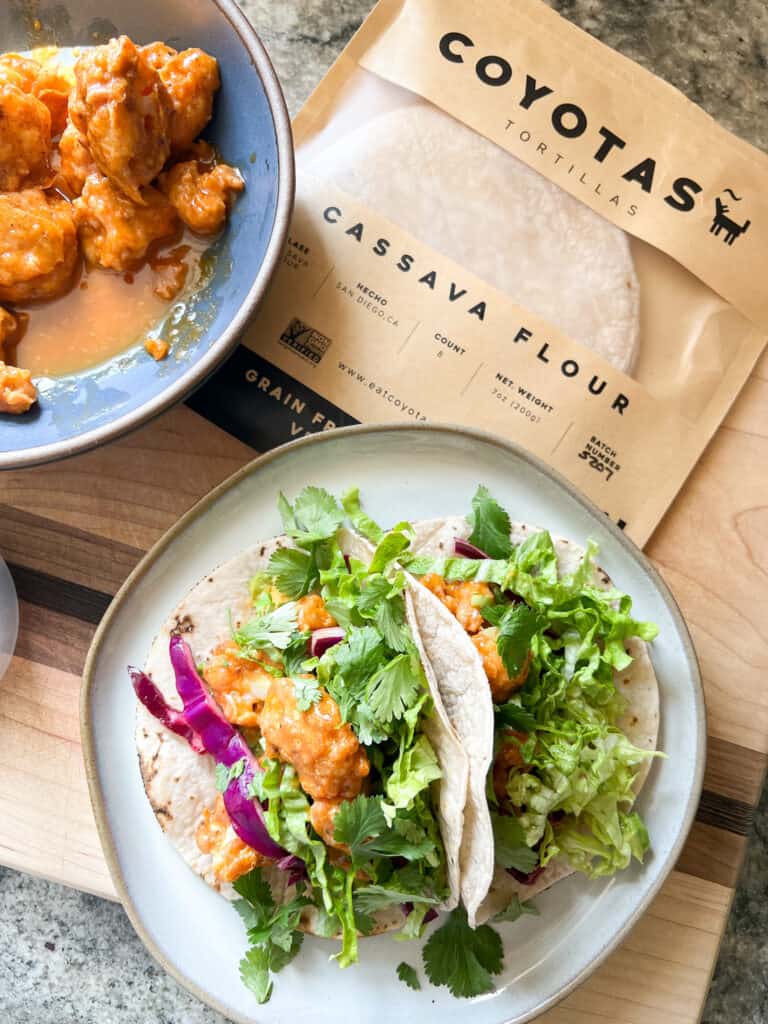 Prepping the Buffalo Cauliflower Tacos
Once you're prepped the Buffalo Cauliflower Bites, these tacos are ready in minutes! To assemble the tacos, simply:
Warm your tortillas on a comal or griddle.
Next, spread a little mashed avocado on each tortilla. I like how the avocado cuts the spicy heat of the buffalo cauliflower. Much prefer this to sour cream.
Then, top a little shredded lettuce and quick pickled cabbage.
Add your cauliflower bites and garnish with some torn cilantro leaves.
You can add more toppings as you like, but this combo was fantastic from my view.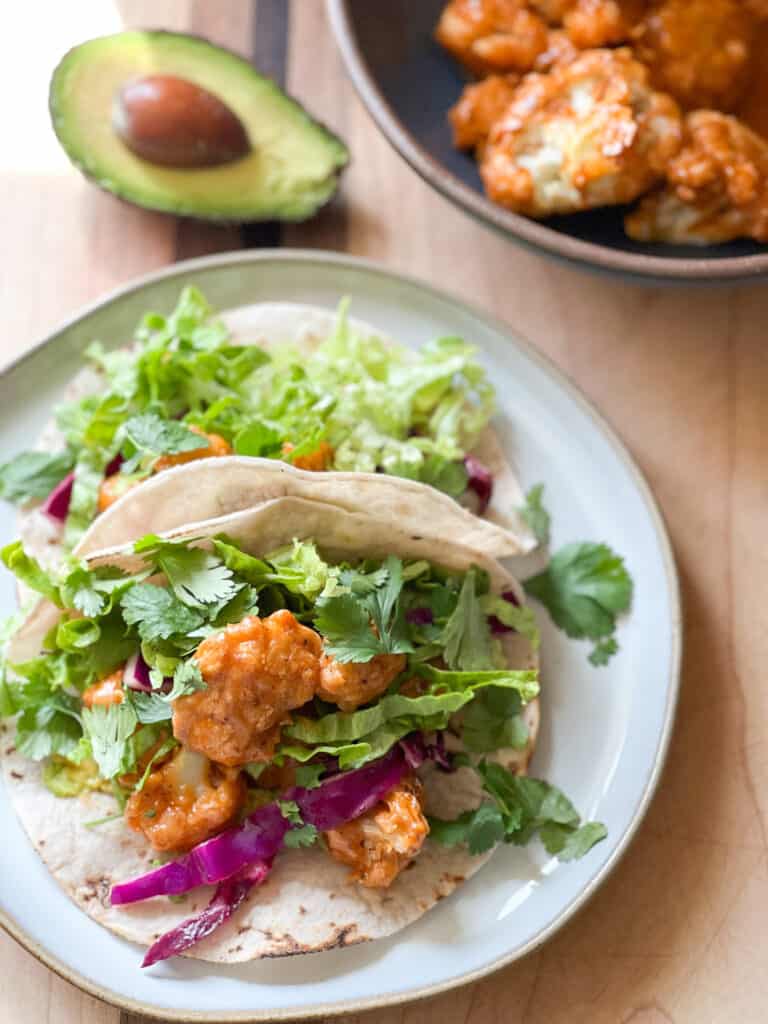 More Tacos to Love
Want more vegetarian and vegan taco ideas? Here are a few more to help you plan your next taco party!
Let me know if you make this recipe by tagging me on Instagram. I can't wait to see what you make!
In the meantime, cheers to the next nourishing meal. ❤️
Buffalo Cauliflower Tacos
After making our Cauliflower Buffalo Bites, making tacos seems like the right thing to do. Feel free to add more garnishes, but this mix keeps it all so simple and fresh. So delicious.
Ingredients
Buffalo Cauliflower Tacos
1

whole head of cauliflower about 1 pound

cut into florets

1/2

cup

all-purpose flour

1

teaspoon

paprika

1

teaspoon

kosher salt

1

teaspoon

garlic powder

1

teaspoon

onion powder

1/2

teaspoon

ground black pepper

1/4

teaspoon

cayenne pepper

1/2

cup

unsweetened almond milk

2

tablespoons

raw honey

1/3

cup

buffalo sauce

3

large cloves of garlic

grated or 6 small cloves

8

tortillas

flour or corn

1

cup

shredded lettuce

1

avocado

seed removed
Quick Pickled Cabbage
1/2

cup

shredded red cabbage

2

tablespoons

white wine vinegar

1

tablespoon

maple syrup

pinch

of kosher salt and pepper
Instructions
Prep Buffalo Cauliflower Bites
Preheat oven to 425 degrees Fahrenheit. Line a rimmed baking sheet with parchment paper.

In a large mixing bowl, whisk together the flour, paprika, garlic powder, onion powder, kosher salt, ground pepper, and cayenne pepper until well combined. Add the milk and whisk together to create a slurry. This will be the batter to coat the cauliflower.

Cut florets into pieces and add to the prepared batter. Using a spoon, mix to evenly coat every cauliflower bite in the batter. Pour out the cauliflower bites on the parchment lined baking sheet and spread them out evenly so they're not too close together to help them crisp up and brown.

Roast the cauliflower for 25 minutes, flipping them halfway, until edges are crisp and golden.

While cauliflower roasts, prepare the buffalo sauce by first grating the garlic into a large mixing bowl. Add honey and buffalo sauce and whisk together until well combined.

Remove cauliflower from oven and immediately toss into the bowl with the prepared buffalo sauce. Stir together to coat the cauliflower in the sauce.
Quick Pickle Cabbage
Create a quick pickle for the red cabbage by whisking together the white wine vinegar, maple syrup, salt and pepper. Add shredded red cabbage and stir to coat cabbage in the dressing. Allow to sit for a few minutes to allow the cabbage to quick pickle and begin to tenderize.
Taco Assembly
To assemble tacos: warm tortillas over stove or using a comal or griddle. Set aside on plates.

For each plate of tortillas, spread a layer of mashed avocado. Follow up with shredded lettuce, quick pickled cabbage, a few cauliflower buffalo bites, and garnish with cilantro. Repeat until all tacos are assembled, two tacos per person (four servings total). Enjoy immediately.