This Cranberry Bean and Farro Soup is proof positive that the simplest, humble ingredients yield a nourishing meal. After a couple of weeks skipping our CSA deliveries, we had only mirepoix left. A tour of our pantry led us to crafting this delicious soup in under 30 minutes. It's hearty and filling thanks to these velvety cranberry beans from Rancho Gordo and fiber rich farro.
Ingredients for the Cranberry Bean and Farro Soup
The soup starts with a humble foundation of vegetables: carrots, onions, and celery. Finely diced, they'll melt into the soup as it cooks giving way for the beans and farro to sit center stage here. The ingredient list is super simple but there is so much flavor. It's truly delicious and nourishing in all the ways we need. What you'll need:
Mirepoix: finely diced carrots, onion, and celery here.
Cranberry Beans: I love the velvety texture of these beans but you could also substitute for pinto beans or borlotti beans if you don't have these in hand.
Farro: This is such a hearty grain that is packed with fiber, iron, magnesium, and protein. I love this in savory breakfast bowls and to add to soups or make grain salads.
Stock of choice: I'm using vegetable stock that I prepped earlier in the day but you can use any stock you have and like. Chicken or beef stock would work well here too.
Bundled Fresh Herbs: We're using fresh sage, thyme, and rosemary from our small urban garden here. You can also use parsley or oregano. No rules here on the herbs; use what you have and what you like. The flavor combination of these three is delicious, nevertheless.
Optional: A parmesan rind is one of my favorite soup add ins to add more flavor but you can definitely leave this out, especially if you're aiming to keep this vegan.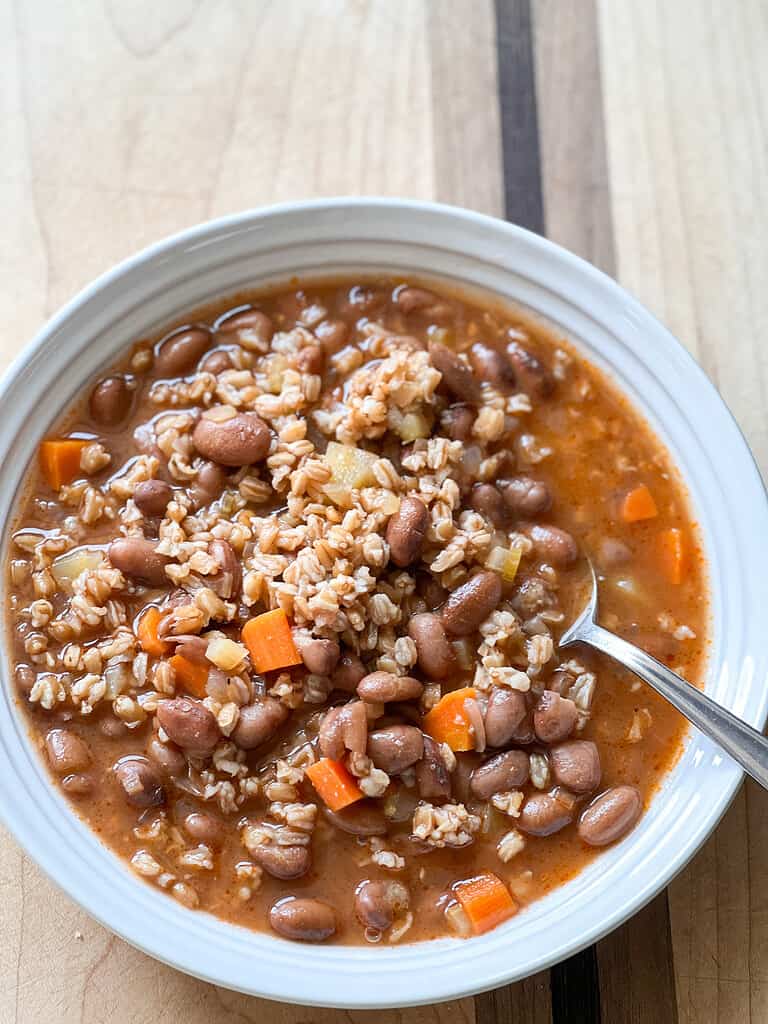 A Soup That's Ready in 30 Minutes
This soup couldn't be easier to throw together and it's ready in 30 minutes or less. It is a soup that's great for a weeknight dinner rotation. We start with cooking up the mirepoix until translucent. Then, we'll add in our tomato paste and broth. Add in the farro to cook until just tender then add the cooked beans. We add the beans last so as not to overcook them and keep them tender and delicious.
While the farro is cooking in the soup, we'll add our bundled herbs to add flavor to the broth. If using, add in the parmesan rind during the last 5 to 10 minutes of cooking and that's it!
This soup is freezer friendly. Cool completely and store in freezer safe containers for up to 3 months.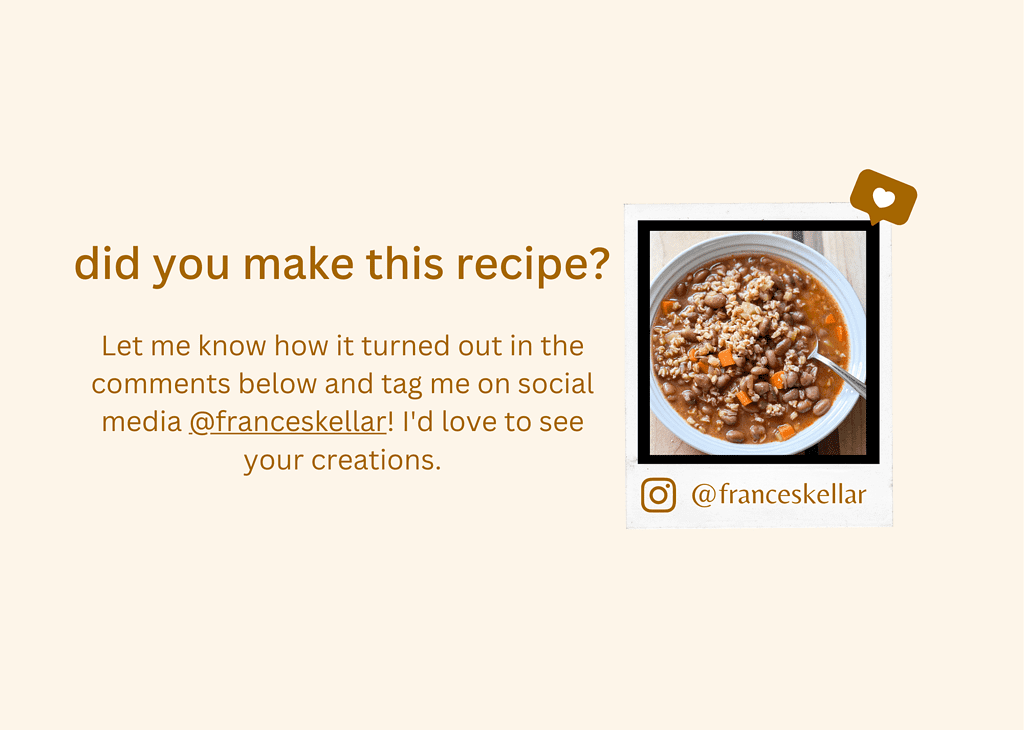 Cranberry Bean and Farro Soup
A hearty and humble soup that starts with a deliciously nourishing flavor base and is packed with protein and fiber from the cranberry beans and farro.
Ingredients
4

tablespoons

olive oil

1

medium carrot

peeled and finely diced

2

medium celery stalks

finely diced

1/2

medium yellow onion

finely diced

3

cloves

garlic

minced

2

tablespoons

tomato paste

2

cups

cooked cranberry beans with bean broth

1/2

cup

farro

6

cups

stock of choice

use either chicken, vegetable, or beef stock

1

sprig fresh rosemary

6

sprigs of fresh thyme

3

sprigs of fresh sage

Optional: parmesan rind

Garnish options: good quality extra virgin olive oil, chopped parsley leaves, squeeze of lemon
Instructions
Heat 4 tablespoons olive oil in a 4 quart dutch oven or heavy bottomed pan over medium heat.

Add the carrot, onion, and celery. Season vegetables with a pinch of kosher salt and ground black pepper. Cook vegetables, stirring occasionally, until softened and translucent, about 5 minutes.

Add garlic and stir for a minute until fragrant. Add tomato paste and stir to coat all vegetables in the paste. Add the stock and farro and stir together.

Using a bit of cheesecloth and twine, bundle the fresh herbs together and tie to keep them together. Place the bundled herbs in the pot with the stock to infuse the soup with the herbs. Cook soup until farro becomes tender, about 15 to 20 minutes.

During the last 5 minutes of cooking, add in the beans with their broth to warm them in the soup. Taste and adjust seasoning with more kosher salt and pepper as desired. If using a parmesan rind, this is a good time to add it.

Discard the parmesan rind (if used) and the herb bundle once soup is cooked. Ladle soup into bowls and garnish as desired with any mix of an olive oil drizzle, crispy herbs, croutons, grated parmesan, a squeeze of lemon, and/or chopped fresh parsley.
Notes
Substitutes for cranberry beans: pinto beans or borlotti work well here.