One can never have too many pasta bake recipes on hand and this Sausage and Ricotta Pasta Bake with Broccoli and Peas is a winner.
We received a few heads of broccoli in our CSA box and I knew this dish would work well to use them up. I personally like cutting the florets into small pieces. This helps them to cook quickly and evenly with the rest of the ingredients and keeps them tender. I save the stems in a freezer bag to keep on hand for vegetable or chicken stock.
Ingredients & Substitutions
This pasta bake with sausage and ricotta is ready in just under an hour and made with a few handy pantry staples. Here is what we'll need:
Italian Sausage: In our effort to save money and moderate our meat consumption, we'll only use half a pound here. It adds great flavor to compliment our veggie friendly dish.
Whole Milk Ricotta: Whole milk affords a creamier texture for our sauce. Definitely want to use whole milk here. You can also use low-fat or skim milk ricotta if you prefer.
Mirepoix (carrot, celery, onion): Because we're making a quick tomato sauce, this trifecta of carrot, onion, and celery is a great base for our sauce.
Broccoli florets: We're using these up from our CSA box and it's a great example of ways to adapt a dinner dish using what we have. Leafy greens like spinach or kale also would work well here.
Frozen Peas: To be honest, these are really for the kids in my life. Frozen peas are an entry point vegetable for them and I love how quickly they cook up in a pasta dish. You can leave these out if you wish, but they do work well here.
Crushed Tomatoes: I'm a big believer in using the highest quality ingredients. These crushed tomatoes from Bianco DiNapoli are it.
Shredded Mozzarella: It wouldn't be a pasta bake without a bit of cheese. We top off the pasta bake with shredded mozzarella which melts beautifully and creates a deliciously cheesy crust.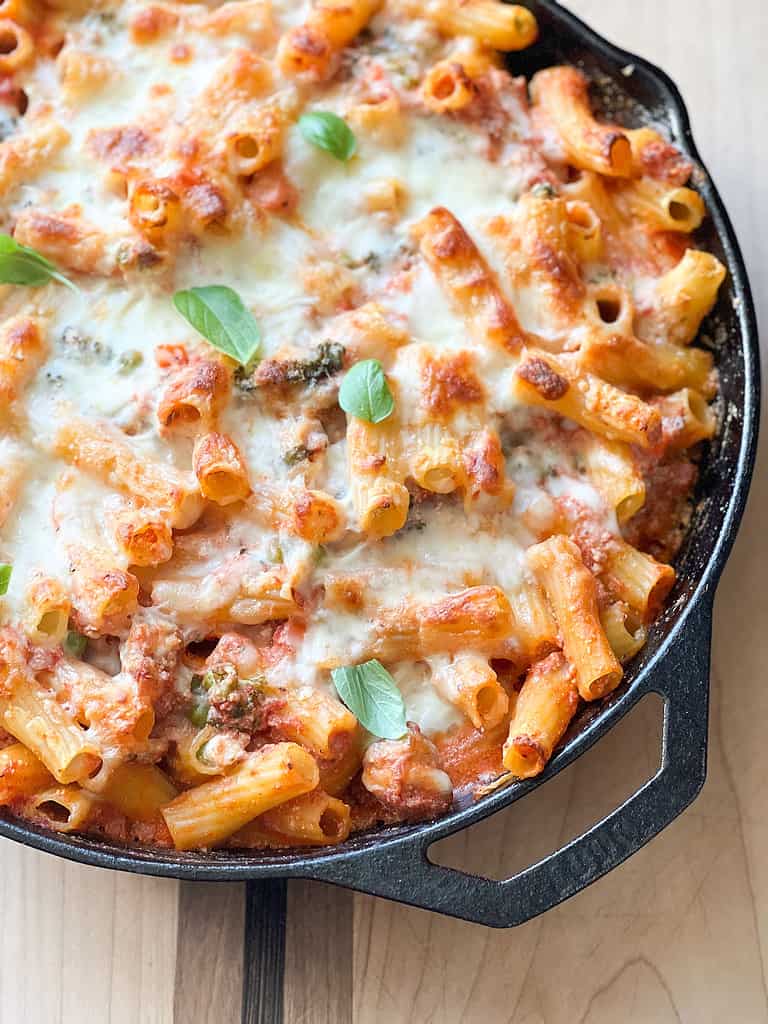 A Meal That Can be Made Ahead
The best part about a dish like this is that you can make a big batch and have leftovers for the days ahead. You can also prep this ahead a day or two ahead of time and then bake it off on the day you're planning to enjoy it.
First, you'll want to boil the pasta until just al dente. It will finish cooking in the oven so we don't want to overcook the pasta. Next, we'll prepare the tomato sauce by first browning the sausage then sautéing our vegetables. We'll add out tomatoes and seasonings then simmer the sauce until all the flavors combine. While the sauce simmers, prep the ricotta mixture. We will then toss the ricotta mixture with the pasta before incorporating it into the sauce. Top with mozzarella then bake until GBD (golden brown and delicious!).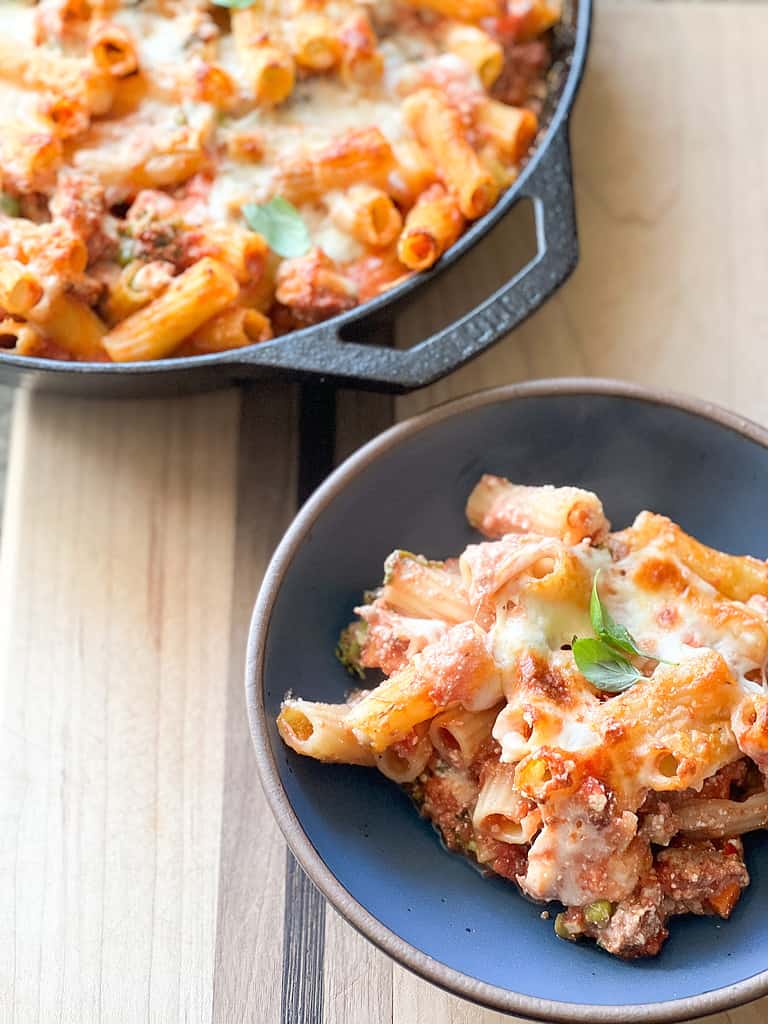 More Easy Weeknight Meals
Want more easy weeknight meal inspo? Look no further! Here are a few favorites in current rotation: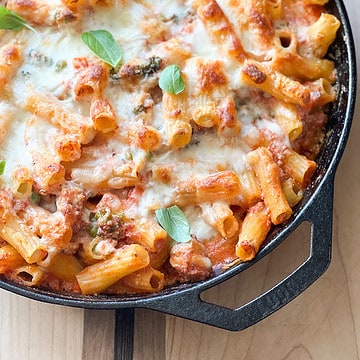 Sausage and Ricotta Pasta Bake with Broccoli and Peas
A veggie packed pasta bake that is ready in just under an hour and makes for a great weeknight dinner to feed a crowd or enjoy the leftovers!
Ingredients
1

lb

pasta

we used Delallo Tortiglioni

1/2

lb

Italian sausage

3

tablespoons

olive oil

1

small head of broccoli

florets chopped into small pieces (save stems for vegetable stock)

1/2

cup

frozen peas

1

medium carrot

finely chopped

1

medium stalk celery

finely chopped

1/2

small yellow onion

finely chopped

2

cloves

garlic

minced

5

fresh large basil leaves

finely chopped

1 28-

ounce

can crushed tomatoes

2

tsp

dried Italian seasoning

15

ounces

whole milk ricotta

from one 15-ounce tub

2

cups

shredded mozzarella

divided

1/4

tsp

crushed red pepper flakes
Instructions
Preheat oven to 425 F.

Bring a large pot of salted water to a boil. Once boiling, add pasta and cook about 5 to 6 minutes until just al dente. Drain and set aside in a large bowl.

Next, heat a large cast iron skillet over medium heat. Add sausage and cook, stirring regularly and using a wooden spoon or spatula to break up the sausage into chunks. Cook sausage until browned, about 5 minutes. Remove to a plate or small prep bowl and set aside.

To the same skillet, over medium heat, add the onion, carrot, and celery with and cook, stirring until softened, about 5 minutes. Add garlic and cook and additional 45 to 60 seconds until fragrant. Add the broccoli and peas and cook for another 5 minutes until broccoli begins to slightly soften.

Add the crushed tomatoes, dried Italian seasonings, and fresh chopped basil leaves. Give the sauce a good stir and season with a generous pinch of kosher salt and pepper. Taste to adjust seasoning as desired. Bring sauce to a simmer and add the sausage back in. Simmer sauce to allow flavors to blend together, about 5 minutes.

While the sauce simmers, prep the ricotta mixture by stirring together the ricotta, 1 cup of the mozzarella, crushed red pepper flakes, and kosher salt and pepper. Toss together with the cooked pasta. This will help the sauce stick to the cheese, which sticks to the pasta during the bake. 
Add the ricotta coated pasta to the finished sauce. Gently stir to combine everything together in the cast iron skillet. Sprinkle the remaining shredded mozzarella cheese on top.

Bake for 20 to 25 minutes until golden brown and bubbly. Allow to cool for 5 to 10 minutes before serving. Garnish with a bit more chopped fresh basil leaves.