This Spinach and Arugula Pesto is proof that pesto need not be reserved for basil. This pesto is a great option for the colder winter and early spring months when basil may not be readily available. I also love making a batch of this to freeze in silicone ice cube trays for consistent measurement for any recipe that calls for pesto.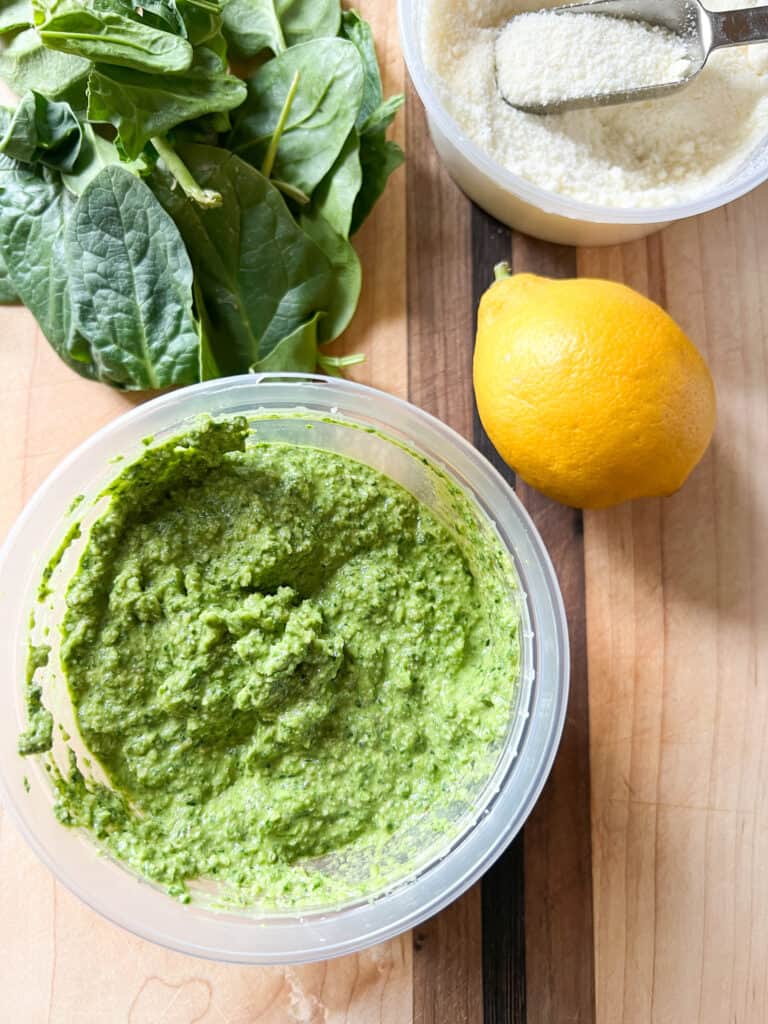 Prepping Pesto with Ease
Prepping this Spinach and Arugula Pesto can be done in minutes. Here's how we do it:
Wash and remove leaves from stems: since we get our arugula and spinach as part of our CSA box, we like to ensure we've washed off any remaining dirt before prepping pesto. We also remove the stems and add them to our compost.
Process with a food processor: Combine the nuts, leaves, lemon zest, and salt in the food processor then processor until coarsely blended.
Pour in olive oil in a steady stream: Once coarsely blended, add the olive oil in a steady stream. This helps to create the emulsification that yields that smooth creamy pesto texture we love.
Finish with cheese: Most pesto recipes say to blend the cheese in with the pesto. I personally love stirring it in at the end as the heat of the blade can melt the cheese and change the texture. Additionally, when using the pesto for pasta, the sauce melts beautifully when adding a ladle of pasta water to the sauce before mixing in the cooked pasta. Lastly, stirring in the cheese last is also great because if we opt to freeze the pesto refraining from cheese helps preserve the texture so it's not grainy.
Let me know if you make this recipe by tagging me on Instagram. I can't wait to see what you make!
In the meantime, cheers to the next nourishing meal. ❤️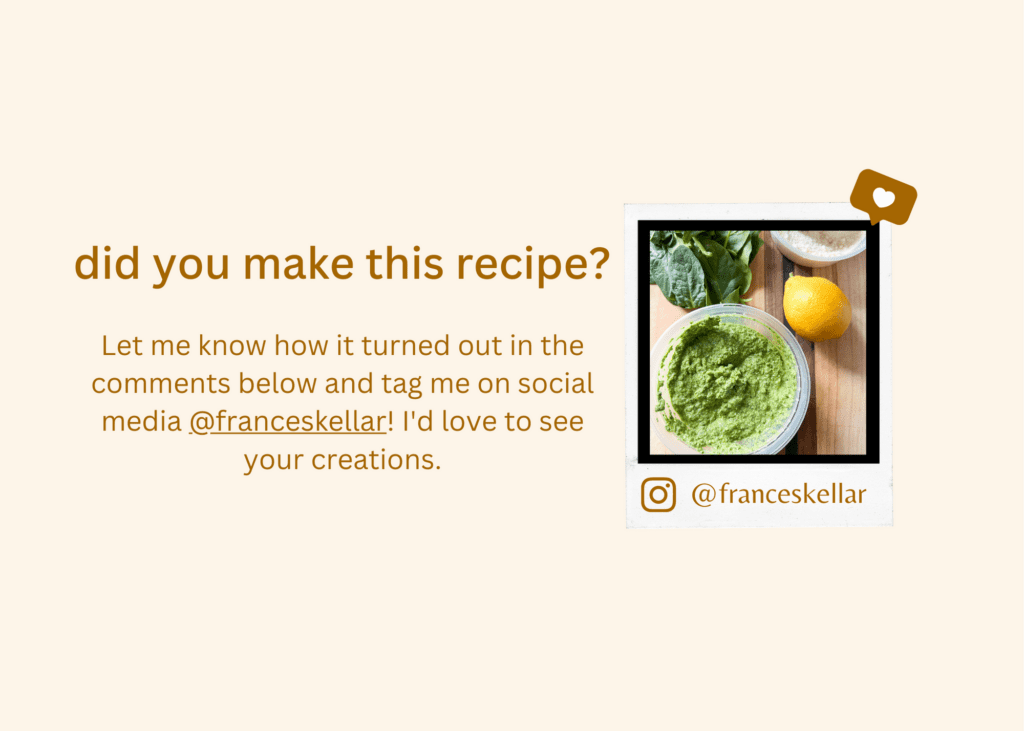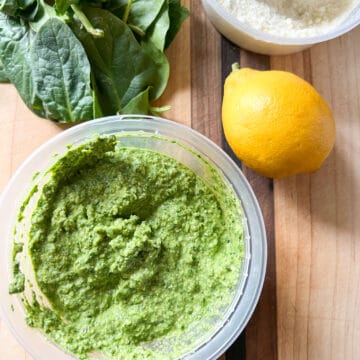 Spinach Arugula Pesto
This Spinach Arugula Pesto is a great seasonal alternative when basil is in short supply during the colder winter months. This is freezer friendly, too, so make a batch to keep on hand for easy weeknight meals. This recipes yields a generous cup, or about 10 ounces.
Ingredients
1/4

cup

pine nuts

toasted

1/4

cup

walnuts

toasted

2

cloves

garlic

peeled

1/2

teaspoon

kosher salt

plus more to taste

1

teaspoon

lemon zest

2

cups

arugula leaves

packed

2

cups

spinach leaves

packed

1/2

cup

olive oil

1/4

cup

grated parmesan
Instructions
Rinse arugula and spinach leaves thoroughly under warm water. Set aside in a bowl until ready for use. If pine nuts and walnuts are not yet toasted, toast them in a small nonstick skillet over medium-low heat until toasted. Set aside to cool slightly.

In the bowl of a food processor, fitted with the chopping blade, add arugula and spinach leaves along with the peeled garlic, kosher salt, lemon zest, and toasted pine nuts and walnuts. Pulse until well combined.

With the food processor running, pour olive oil in a steady stream to help the pesto emulsify together. Stop the food processor to scrape the sides down as needed to ensure pesto is well blended.

Once blended, pour out pesto into a small storage container. Stir in the grated parmesan cheese to combine. Taste and adjust seasoning as needed.

Store pesto in the fridge for up to 5 days. Pesto can also be kept in the freezer for up to 3 months (see note for tips on how to do this).
Notes
Freezer tip: this pesto will freeze well for up to 3 months. To freeze, refrain from added cheese in prior to freezing. Freezing pesto in silicone ice cube trays make for consistent measurements for any given recipe use. If doing so, thaw cubes in a small bowl overnight in the refrigerator and mix in a couple teaspoons of grated parmesan to taste. Adjust seasoning as needed then use pesto for the chosen recipe.