This easy pasta with broccolini and sun dried tomatoes is one to keep on hand for a weeknight meal. It's quick to assemble and pantry friendly. You can use any pasta shape you like. Here I am using broken lasagna noodles because we're getting low on pasta and while I'll restock this weekend, this worked in a pinch.
The sauce is creamy and adds great flavor to the broccolini and sun dried tomatoes. This is definitely a great vegetarian pasta dish option!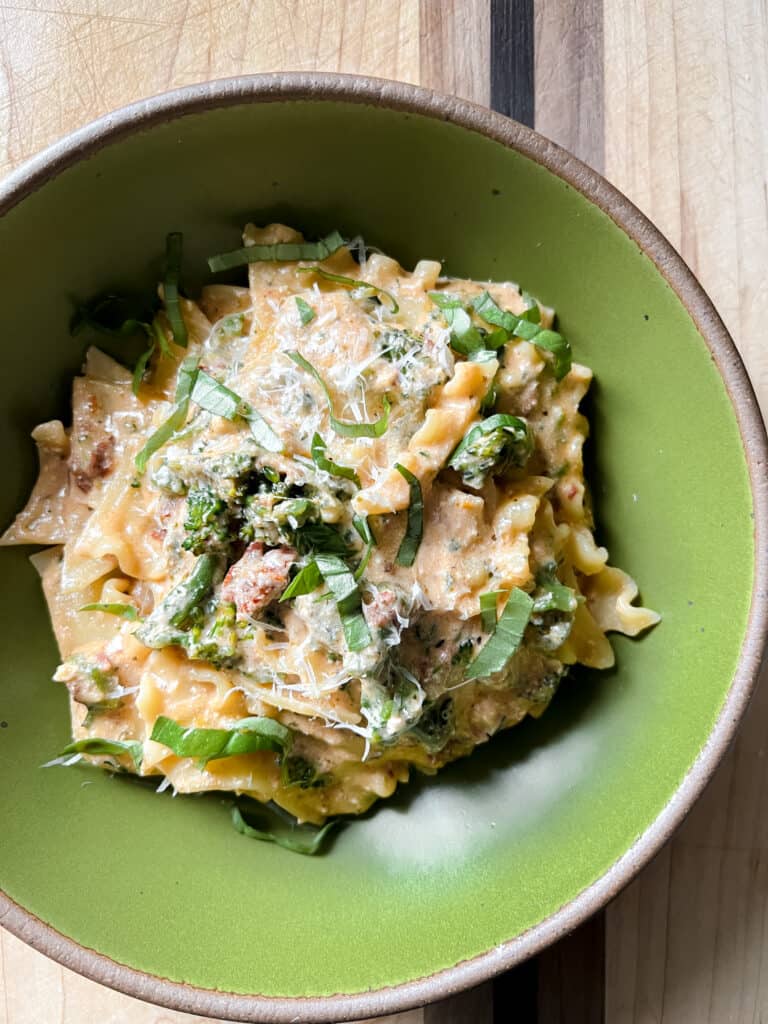 What You'll Need to Make This Easy Pasta Dish
Pasta is go-to in our house. I love it for its versatility and ease in finding a good mix of ingredients. For this pasta dish, we'll use:
Broccolini: It's in season at our local farmer's market and I've been buying this up as a break from our usual broccoli. They're tender to the bite and really delicious!
Sun Dried Tomatoes: A staple ingredient in our pantry, this adds some umami flavor that works well with the broccolini. A must have pantry staple!
Pasta: This goes without saying but you can definitely swap out for any pasta shape you like. This would work with penne, orecchiette, shells, or even rigatoni. The broken lasagna noodles I'm using here are really just out of necessity given that's what I had on hand.
Stock of Choice: We're using homemade chicken stock here but you can swap for vegetable stock or even some reserved pasta water. This will help us build our sauce while using a bit less cheese and cream.
Ricotta, cream and tomato paste: Whipping the ricotta with cream and tomato base gives us a good base to build on this dish and makes a speedy sauce.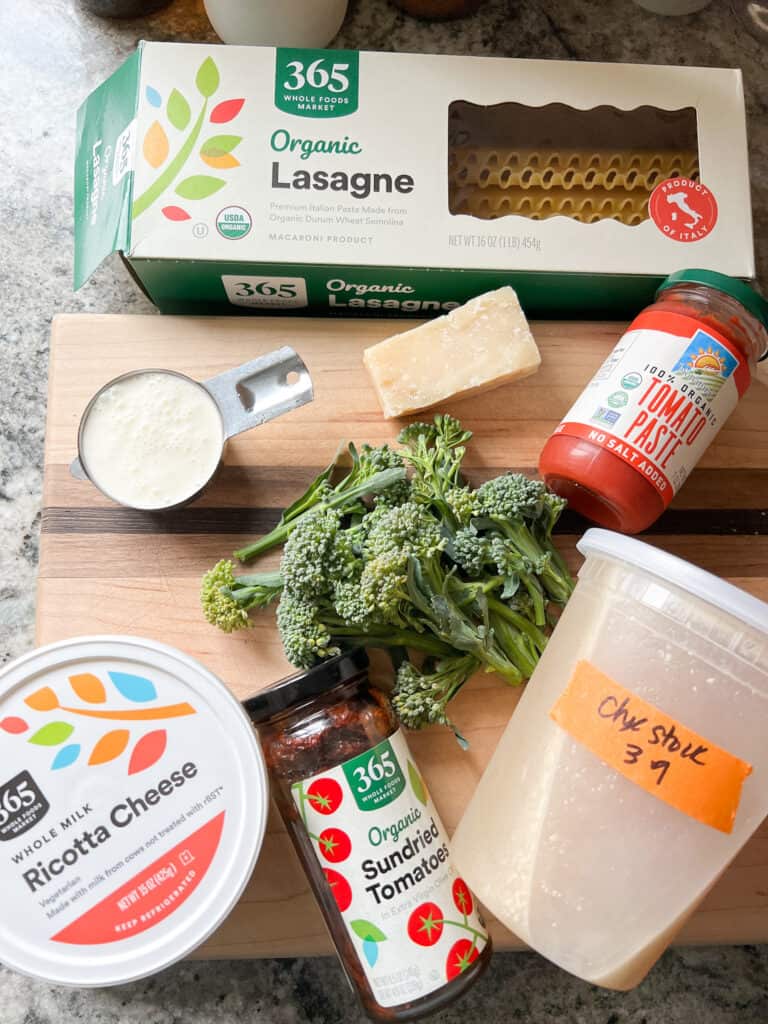 Easy Pasta Dishes Using What We Have
The key to easy pasta dishes like this one starts with using what we have on hand. For this pasta dish, I wanted to use up the broccolini from the farmer's market and add sun dried tomatoes for a punch of added flavor. I knew I was running low on pasta but still had these lasagna noodles on hand. Breaking the noodles up was both cathartic and a great way to use up what we had on hand.
A few years ago I read Tamar Adler's An Everlasting Meal and I was struck with Adler's approach to cooking nourishing meals from an economical approach. From effective techniques to boiling water to using leftovers and scraps creatively, I learned the importance of being more mindful in the kitchen. It's a lesson that continues to reinforce what I've always believed: cooking shouldn't be complicated; but it does need to be delicious.
Let me know if you make this recipe by tagging me on Instagram. I can't wait to see what you make!
In the meantime, cheers to the next nourishing meal. ❤️
Looking for more easy pasta dishes? Check out a few of my favorites below:
Pasta with Caramelized Zucchini
Easy Pasta with Broccoli and Sundried Tomatoes
A speedy pasta dish that's ready in 20 minutes and is full of flavor. It's winter weeknight comfort food at its best.
Ingredients
1/3

cup

whole milk ricotta

1/3

cup

heavy cream

1

tablespoon

tomato paste

1

teaspoon

dried Italian seasoning

1/4

teaspoon

crushed red pepper flakes

1/4

teaspoon

black pepper

1/2

teaspoon

kosher salt

3

tablespoons

olive oil

1

cup

chopped broccolini

2

tablespoons

chopped sun dried tomatoes in oil

2

cloves

minced garlic

1/2

cup

chicken stock or pasta water

3/4

cup

shredded mozzarella

1/4

cup

freshly grated parmesan

Chopped fresh basil for garnish
Instructions
In a small bowl, whisk together the ricotta, cream, tomato paste, dried Italian seasoning, red pepper flakes, kosher salt, and black pepper. Set to the side until ready to use.

Roughly chop the broccolini into 1/2 inch pieces. Mince the garlic and roughly chop the sun dried tomatoes.

Bring a pot of salted water to boil. Add pasta and cook until al dente.

In a large sauté pan, heat olive oil over medium low heat. Add broccolini and sauté until slightly softened, about 5 minutes.

Add garlic and sun dried tomatoes and give the mix a quick stir. Add in chicken stock and bring to a quick simmer. Pour in the ricotta mixture and stir everything together. Add in pasta and stir to coat noodles in sauce.

Sprinkle in cheese and stir until melted. Serve in large pasta bowls and garnish with fresh basil.