Slow Roasted Miso Radishes are a game changer. As someone who is learning to love vegetables like radishes and celery, this dish changed all that for me. They're meaty and umami packed with incredible flavor from miso, garlic, and ginger. You'll want to add these to your Meatless Monday Dinner rotation!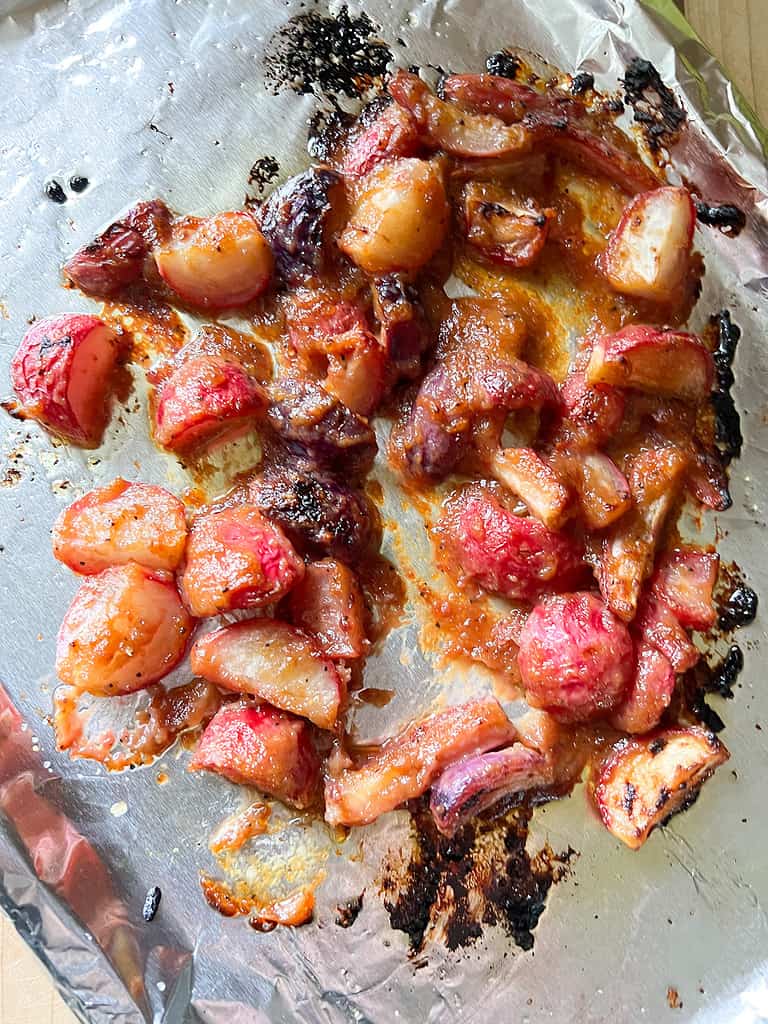 Ingredients for Miso Roasted Radishes
My carnivorous husband was blown away by how tasty these radishes were and the ingredient list was all too simple. We're slow roasting them then tossing them in a flavor packed sauce before completing a final roast and a blast under the broiler.
Here's what we need to make these stellar vegetables:
1 Bunch Radishes: We received a bunch of radishes from our weekly CSA box and I always love the color from the variety. As someone learning to love this vegetable, this is definitely a way to get me to enjoy them!
White Miso Paste: This is the umami secret ingredient here. It has a salty-sweet taste that pairs beautifully with the radishes and is the base for our sauce.
Grated Garlic and Ginger: These are our classic aromatics to mix with the white miso paste for our sauce. I like to grate them both so they melt into the sauce rather than mince them. Recommending grating both in this recipe.
Soy Sauce or Tamari: This adds a bit more of a salty bite to the sauce. Use tamari is avoiding soy.
Rice Vinegar: We need something a little acidic to balance the salty and sweet flavor combos. Just a touch of rice vinegar helps to thin out the sauce while affording us that balance.
Maple Syrup: I like this tiny bit of added sweetness here but it is definitely optional if you don't like it.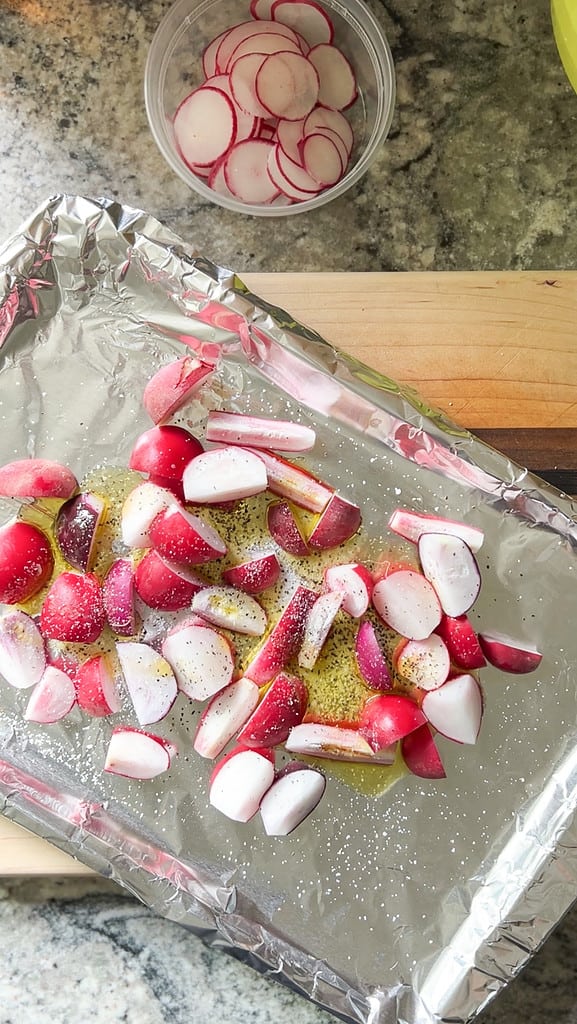 The One-Two Step for Miso Roast Radishes
We're roasting these radishes slowly and it's a two step process:
Roast the radishes in a bit of olive oil and kosher salt and pepper for 15 minutes until they're just beginning to become tender. While the radishes undergo their initial roast, make the miso sauce.
Remove radishes from oven and promptly toss in the sauce. Toss radishes to coat and then spread them back out on the baking sheet to undergo the second roast. During the last 5 minutes of cook time, switch to the broiler on low to caramelize the radishes a touch more and crisp up the edges.
Remove them from the oven and use them as you desire. Here, we used them on top of a mashed avocado-edamame-pea toast and it was the best thing ever! Recipe for the edamame-pea mash is also included in the recipe card below.
Easy Weeknight Winners
Looking for more speedy dinner ideas? Check out some of our favorites below:
Let me know if you make this recipe by tagging me on Instagram or share in the comments below. I can't wait to see what you make!
In the meantime, cheers to the next nourishing meal. ❤️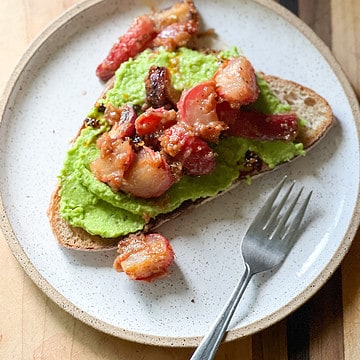 Slow Roasted Miso Radishes
Your new favorite way to enjoy radishes. This is a super simple dinner ready in 35 minutes and is packed with so much flavor!
Ingredients
Miso Roasted Radishes
1

bunch radishes

washed and ends trimmed

2

tablespoons

white miso paste

1

tablespoon

soy sauce or tamari

1

tablespoon

maple syrup

2

teaspoons

rice vinegar

2

cloves

minced garlic

1/2

teaspoon

grated ginger
Mashed Avocado-Edamame-Pea Toast
1/2

cup

peas

1/3

cup

shelled edamame

1/2

avocado

Juice of 1 lemon

Kosher salt and pepper to taste

2 to 4

slices

of toast

use what you have/like; we used whole wheat sourdough here.
Instructions
Preheat oven to 350 degrees Fahrenheit. Quarter radishes and place on a foil lined baking sheet. Drizzle olive oil and season with a pinch of kosher salt and ground black pepper. Using your hands, coat radishes in oil and seasonings.

Roast radishes in 350 degree oven for 15 minutes. While radishes roast, prep the miso sauce by whisking together miso paste, soy sauce, maple syrup, rice vinegar, grated garlic and grated ginger in a medium bowl.

Remove radishes from oven and add them to the miso sauce bowl. Using tongs, toss radishes to coat in sauce. Place radishes bake on the baking sheet and roast for another 10 minutes until radishes are tender and sauce begins to caramelize.

During the final roast, prep the avocado-edamame-pea mash. Blanch edamame and peas in a pot of boiling water. Scoop edamame and peas into a bowl of ice water to stop cooking process and keep the bright green color. Add blanched peas and edamame to the bowl of a food processor fitted with a chopping blade. Add avocado, lemon juice, and kosher salt and pepper. Blitz in food processor until well pureed. Switch oven to broiler on low for a final 5 minutes to crisp up edges and caramelize sauce just a bit more. Watch carefully so sauce does not burn.

Remove from oven and prep your toasts. Toast bread to desired crispness. Layer on the edamame mash followed up a scoop of the roasted miso radishes. Enjoy immediately.