(This post contains affiliate links.)
Vegan Mexican Sopes have quickly become a favorite here. Masa harina paves the way for great tasting tortillas for tacos, tostadas, and more. This blue corn masa from our friends at Masienda has been my go to lately for a variety of Mexican dishes. I've been using it to make Tlacoyos, breakfast tacos, enfrijoladas, and these delicious sopes.
These sopes are made with just three ingredients: masa harina, salt, and water. These can be made within minutes and in no time you'll have a delicious dinner ready to feed your group!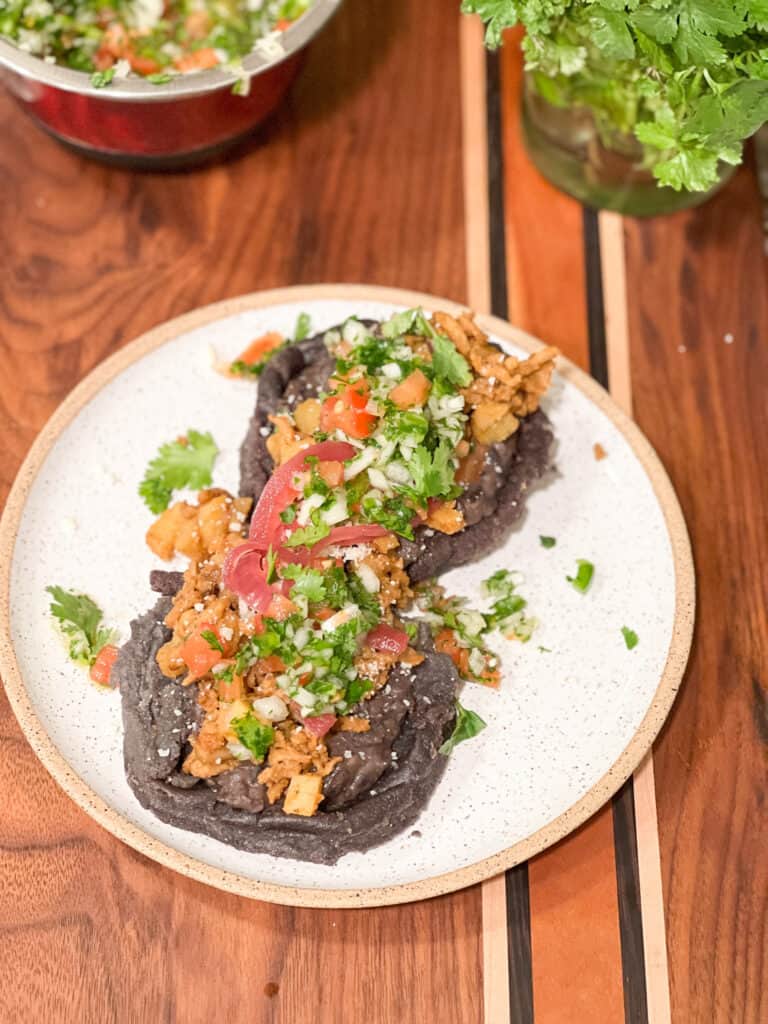 What are Sopes?
Found in many parts of Mexico, think of sopes (pronounced as soh-pez) as thicker tortillas that have a rimmed edges. The rim is what helps the tortilla to hold all the delicious toppings. They're kind of like thick tortilla plates. The options for toppings are endless. Some topping ideas include:
Refried beans
Diced crispy potatoes with onions, garlic, and an array of seasonings
Plant based egg alternative like JUST Egg
Plant based crumbles such as Plant Boss
Diced sautéed vegetables like bell peppers, poblanos, diced sweet potato, zucchini
Salsa
Fresh Pico de Gallo
Pickled red onion
Torn cilantro leaves
See what I mean? Endless topping options! I'm focusing here on vegetarian and vegan ideas but for the meat eaters here you can also add chopped pollo asado or grilled chicken, carne asada or grilled shrimp.
Prepping the Vegan Mexican Sopes
Here is how we prep the sopes:
First, mix together your masa harina with water. Mix by hand until the dough is pliable and smooth. It should not stick to your hands.
Next, using a food scale, measure out 85 to 90g for each dough ball. Form into a ball and set back into the large bowl. You should have 8 dough balls all together. Cover tightly and allow dough to set about 10 minutes.
As you begin forming the shells, you won't press down all the way until they're flat like traditional tortillas. You want them to keep a little thickness so that you can form the ridges after par cooking them.
Storing and Reheating Sopes
Sopes are best enjoyed as soon as you make them. However, there are ways you can prep them ahead of time.
Make ahead: prep your masa dough balls as noted in the instructions below and store them in an airtight container. Store in the fridge for up to three days.
Fry ahead: Fry all the sopes as noted in the instructions below, store in the fridge, and reheat in a 350 degree Fahrenheit oven until edges are crisped again.
Freeze ahead: Cooked sopes will freeze well for up to a month if kept in an airtight container. Thaw sopes in the fridge overnight before reheating.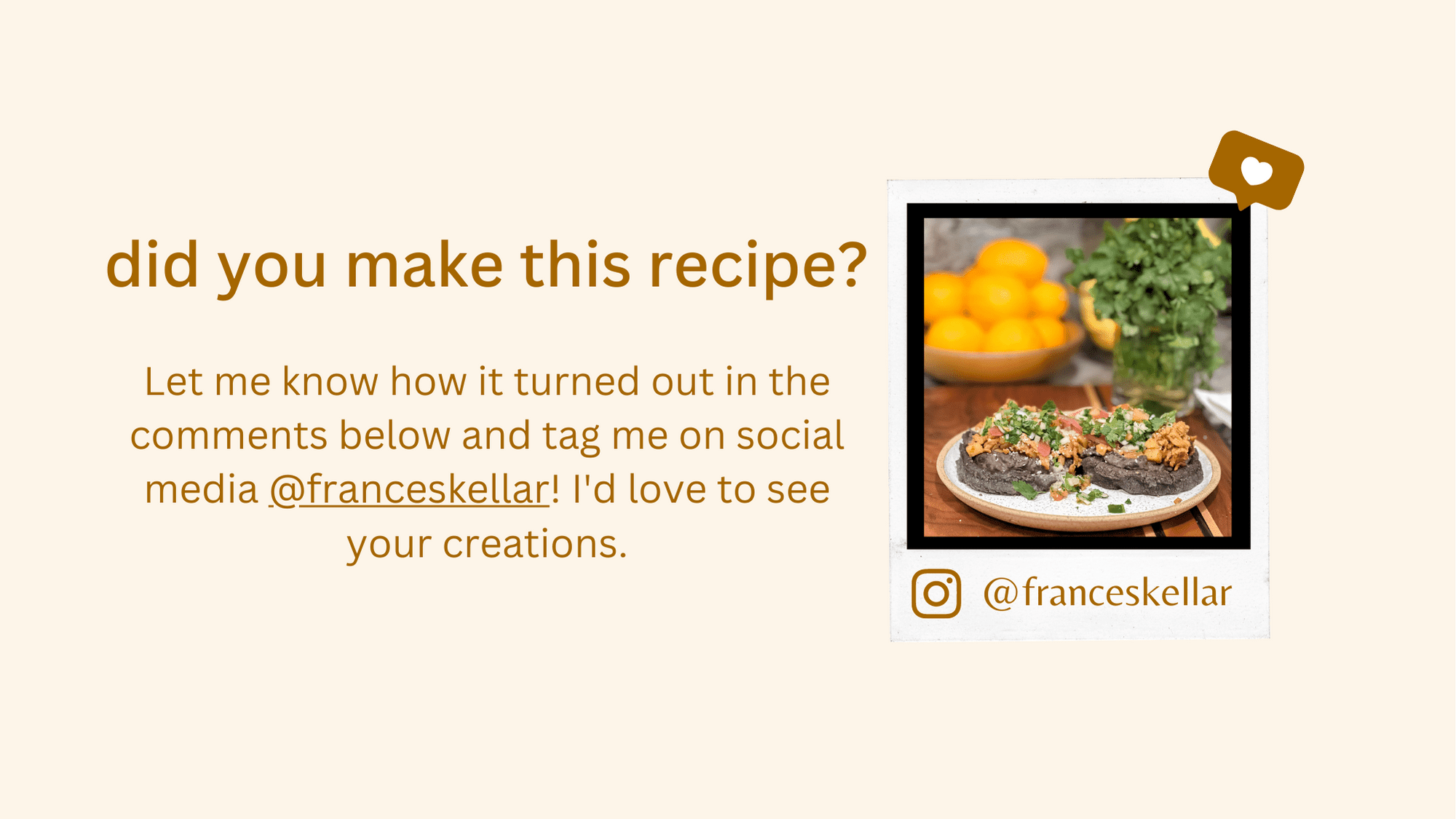 Vegan Mexican Sopes
Slightly thickened tortillas are topped with refried beans, diced seasoned potatoes, and all the salsa for a delicious vegan dinner option for your weeknight meal plans.
Equipment
1 non-stick griddle or skillet or comal

1 tortilla press

you can also use the back of two plates or even work to form the sopes with your hands, but a tortilla press makes for a great investment if you plan to use it often.

1 food scale
Ingredients
For the Sopes
252

grams

blue corn masa harina

8

grams

kosher salt

280

grams

warm water

neutral cooking oil for frying
For the Filling
2

cups

refried black beans

optional, crumbled queso fresco
For the Pico de Gallo
1

jalapeño, stemmed and seeds removed, finely diced

1

small hot house tomato, stem removed, finely diced

1/3

cup

finely chopped cilantro leaves

1/4

cup

finely chopped yellow onion

juice from 1 lemon

kosher salt and pepper to taste
Instructions
Prep the Sopes
In a large bowl, combine the masa harina with kosher salt. Add warm water and begin to mix together using a wooden spoon, spatula, or your hand.

Mix the dough until it forms the consistency of play doh where it feels pliable to form and shape, but does not stick to your hands.

Using a food scale, measure out 85 to 90g for each dough ball. Form into a ball and set back into the large bowl. You should have 8 dough balls all together. Cover tightly and allow dough to set about 10 minutes.

Preheat your comal, non-stick skillet, or griddle on medium high heat.

Cut two pieces of parchment paper to form two, 6 x 6 " squares. You will use these to flatten the tortillas so they don't stick to your tortilla press.

Open a tortilla press and lay one sheet on parchment paper down so that it covers the bottom portion of the press. Place one dough ball in the center and cover with the second sheet of parchment paper.

Close the top of the tortilla press and gently press down to begin to flatten the dough ball. Do not press too firmly or it'll flatten too much. Aim for about 1/4 to 1/2 inch thickness for each tortilla. Remove the parchment sheets from the tortilla.

Place the flattened tortilla on your comal or griddle and cook about 45 to 60 seconds on one side. Flip and cook the second side for another 45 to 60 seconds. Transfer the thick tortilla to a plate and allow to cool slightly for a minute.

When the tortilla is cool enough to handle, use your opposing index fingers to pinch the edges to form a rim, like a pie crust. Cover with a clean kitchen towel or napkin and repeat until all sopes are formed.

Heat neutral cooking oil of choice in a large non-stick skillet over medium-high heat. Once the oil is hot, begin frying two to three sopes at a time, about 2 to 3 minutes on each side. Fry until the edges are crispy and slightly darkened/golden. Remove from the skillet and place on a plate lined with paper towels to drain excess oil. Repeat with remaining sopes until all are fried.
Prep the Pico de Gallo
In a medium bowl, combine the finely chopped jalapeño, tomatoes, onion, cilantro. Squeeze in lemon juice and stir everything to combine fully. Season with kosher salt and ground black pepper to taste. Set aside while prepping the sopes.
Assemble the Sopes
Place one or two sopes on a plate per person. Spoon about 3 tablespoons of refried black beans per sope. Top with pico de gallo and any other desired toppings. Serve.
Notes
Additional garnish options: pickled red onions, crumbled queso fresco, torn cilantro leaves, salsa of choice