When the temperatures rise this is the best Watermelon Salad with Easy Chili Lime Dressing to make on a hot summer day. This salad celebrates the beauty and sweetness of watermelon with a flavor packed homemade salad dressing made with simple ingredients.
It's a no-cook salad with fresh herbs, fresh veggies, quick pickled shallots, accented with a chili lime dressing that is sure to check all the boxes for the perfect salad for summer. It's sure to become one of your new favorite ways to elevate this classic salad combo of watermelon and tangy cheese.
Scroll down to learn more about this delicious salad and get the recipe to make this today.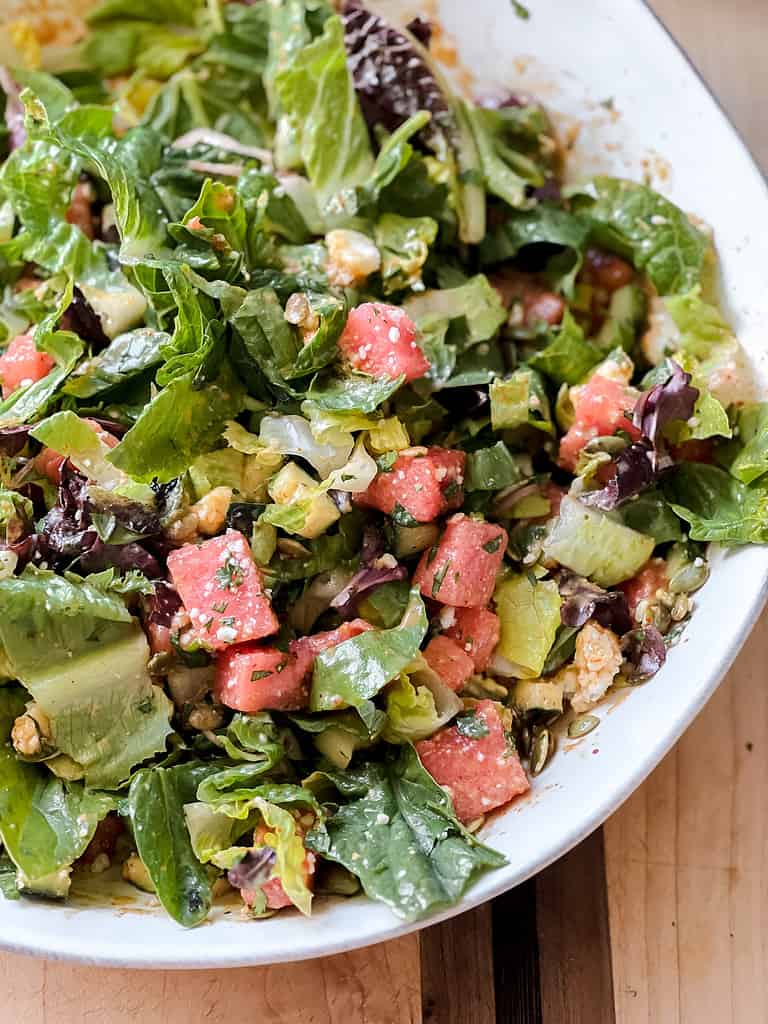 A Delicious Watermelon Salad with a Healthy Salad Dressing
Whether at the farmer's market, in your your CSA box, or at your local grocery stores, summer produce is peak deliciousness! Ingredients are so fresh and vibrant. When it comes to fresh salads, I always opt to make my own dressing and this one is a good one. Here are the ingredients we'll need to make this deliciously zesty salad:
Watermelon: Watermelon salads are a summer staple. We really know it's summertime when the first harvested crops of watermelon make their way to the farmer's markets. Opt for the sweetest you can find. Seedless watermelon is a good option too. If you can't find them at the farmer's market, look to your local grocery store. You can also opt for pre-cut chunks of watermelon and cut them down into smaller pieces if you prefer.
Cucumber: Warmer temperatures mean we need to keep hydrated. Foods like cucumber and watermelon contain higher water content making them fantastic options for summer time salads that help keep us cool and hydrated.
Diced Avocado: The best way to get our dose of healthy fats from avocado and in our gluten-free dressing with the olive oil. I love the creaminess of the avocado in this salad and I'm never out of ways to incorporate this healthy fat into a dish.
Mixed Greens: The bed of the salad bowl here is filled with fresh mixed greens from our CSA box. Chopped romaine, spinach, mesclun, and even dark leafy greens like kale, chard, and broccoli greens will work here too. Use what you have on hand; that's the name of the game when it comes to seasonal cooking.
Awesome Accents for This Salad
Fresh Herbs: I love the addition of fresh herbs and they are a great way to add a flavor accent to such simple recipes. We're using a mix of fresh mint and cilantro here. You can also swap out mint for parsley or double the cilantro here.
Toasted Pumpkin Seeds: I love this for added crunch and texture in this salad. You can also use toasted walnut or sunflower seeds.
Crumbled Cotija: This is a game changer from the usual feta addition in a watermelon salad. I absolutely love the tangy and saltier bite of this classic Mexican cheese. It pairs nicely with the Chili Lime Dressing here which I believe you'll enjoy.
Quick Pickled Shallots: You can also use pickled red onion here but I love the softer zest and zing of the shallot here. The recipe card outlines the steps to make this quick pickled shallot; you'll have enough of them for another round of salads so keep them on hand for the week's lunchtime salad remixes.
A Zesty Homemade Dressing: This Chili Lime Dressing is one of my favorite gluten free dressings and is easy to prepare. It is comprised of a mix of apple cider vinegar, honey, lime juice, extra virgin olive oil, and shallot. You can definitely substitute maple syrup in lieu of honey to keep this vegan. The way the dressing emulsifies makes for a creamy dressing without the dairy. Another win!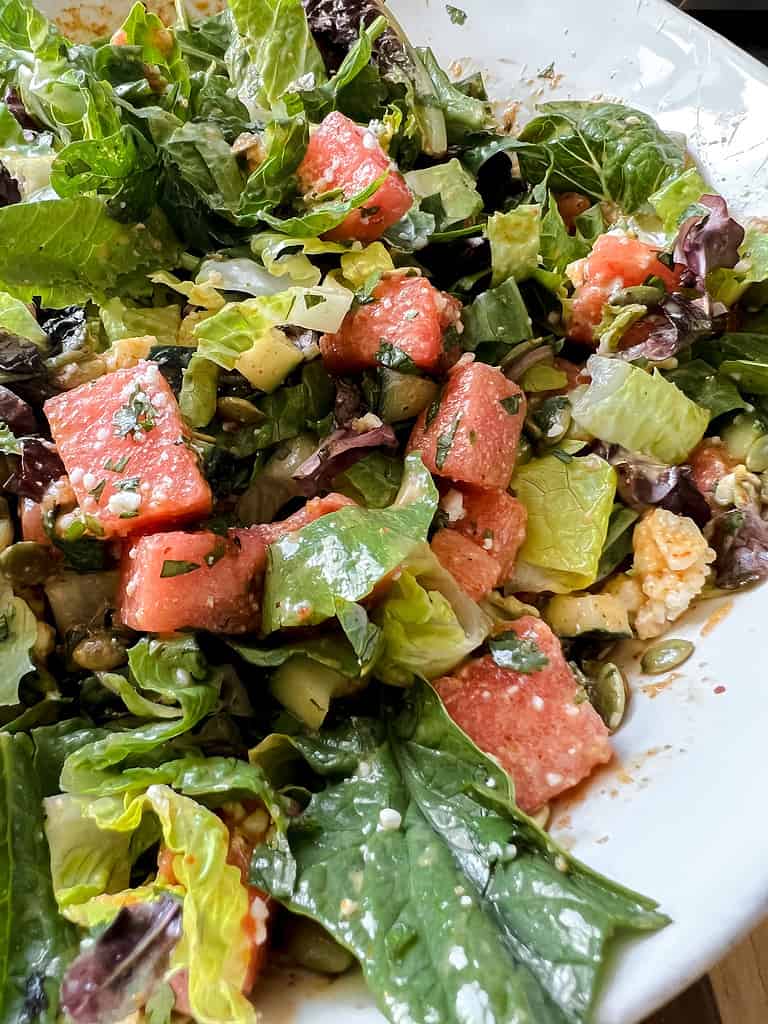 How to Make The Best Watermelon Salad with Chili Lime Dressing
This easy recipe for a stellar salad is ready in less than 15 minutes and a bonus: it's no cook! It's truly the perfect recipe to keep on hand for an easy summer salad to beat the heat! Assembly for this easy salad is simple and the only items we'll need to really prepare are the quick pickled shallot and the dressing. Here's what we'll do:
For the quick pickled shallots: Whisk together the apple cider vinegar, water, sugar and salt in a small bowl until the sugar and salt have dissolved. This quick pickling liquid will help lessen the zesty bite of the shallot and soften them just enough for the salad. Set them aside to sit and pickle quickly while prepping the rest of the salad ingredients.
For the dressing recipe: To make our own salad dressing, we'll start by adding the chili lime seasoning, lime juice, honey (or maple syrup), extra virgin olive oil, kosher salt, and the roughly chopped shallot to a tall cup or container. Here, I'm using an immersion blender to blend the ingredients together to make the creamy dressing. Alternatively, you can add the dressing ingredients to a blender or food processor and whip them up until blended smooth.
Assembling the Salad: Pour the homemade dressing at the bottom of a salad bowl or large prep bowl. Add the diced watermelon, cucumber, toasted pumpkin seeds, pickled shallots, and mixed greens. Gently toss everything together to combine the salad dressing with the ingredients. Add avocado and crumbled cotija and gently toss to combine before serving.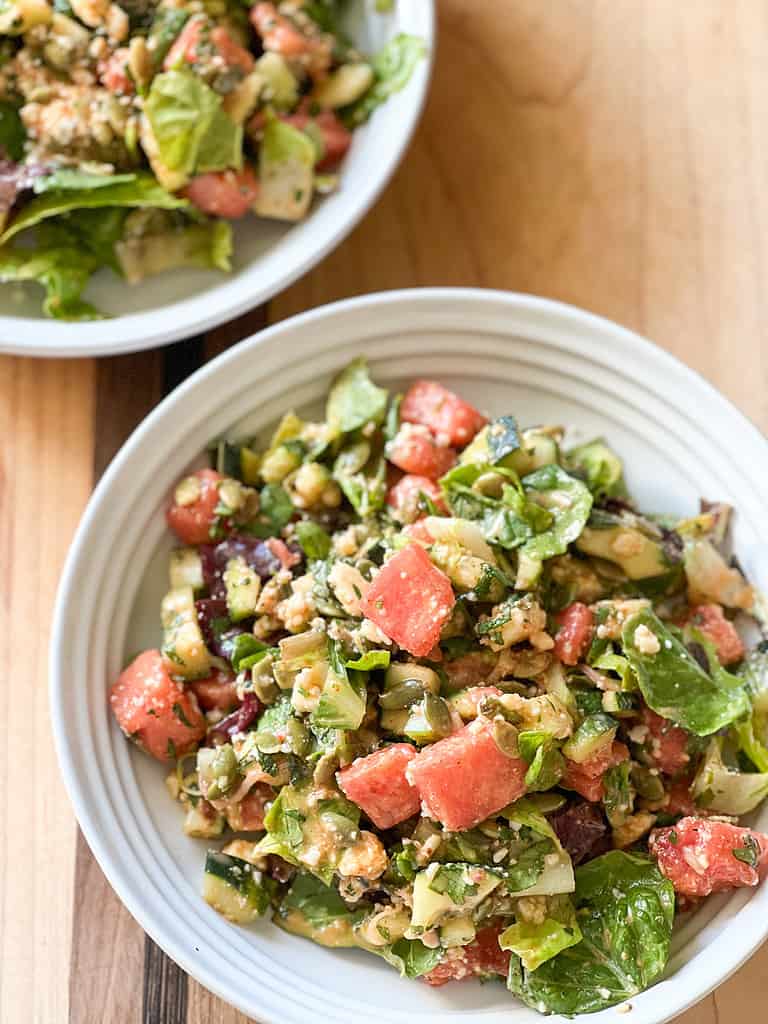 Serving & Storing Tips & FAQ
To Serve:
Serve this favorite salad with homemade salad dressing family style or in individual portions. This is great to bring for potlucks or the summer barbecue and cookout.
To Store:
The shelf life of this salad is short. That said, it is best enjoyed the day of once you toss the dressing with salad ingredients. If you want to prepare this ahead of time, store the dressing in a separate airtight container. Store the diced watermelon and cucumber in separate containers as well since moisture can accelerate the mixed greens wilting or turning a little soggy. Place ingredients in the serving bowl to assemble everything together once ready to serve.
FAQ:
Are there other dressing options if I'm not a fan of chili and lime? Yes! Absolutely. That's the beauty of salads like these. You can customize to your taste and preference to create some awesome homemade dressings. Some ideas for you here:

A classic balsamic vinaigrette with a good quality, syrupy balsamic vinegar
A simple vinaigrette made with either white wine vinegar or red wine vinegar with dijon mustard
You can also, if you really want, use any store-bought salad dressings you love.

Can I make this salad ahead of time? You can definitely make this ahead of time. As noted above, store the dressing and watermelon chunks in separate airtight containers. Place ingredients in the serving bowl to assemble once ready to serve.
What other cheese could I use? You can definitely swap out the cotija and use crumbled feta. If pairing with the balsamic dressing, chunks of parmesan cheese would work well to keep with the salty and slightly tangy bite.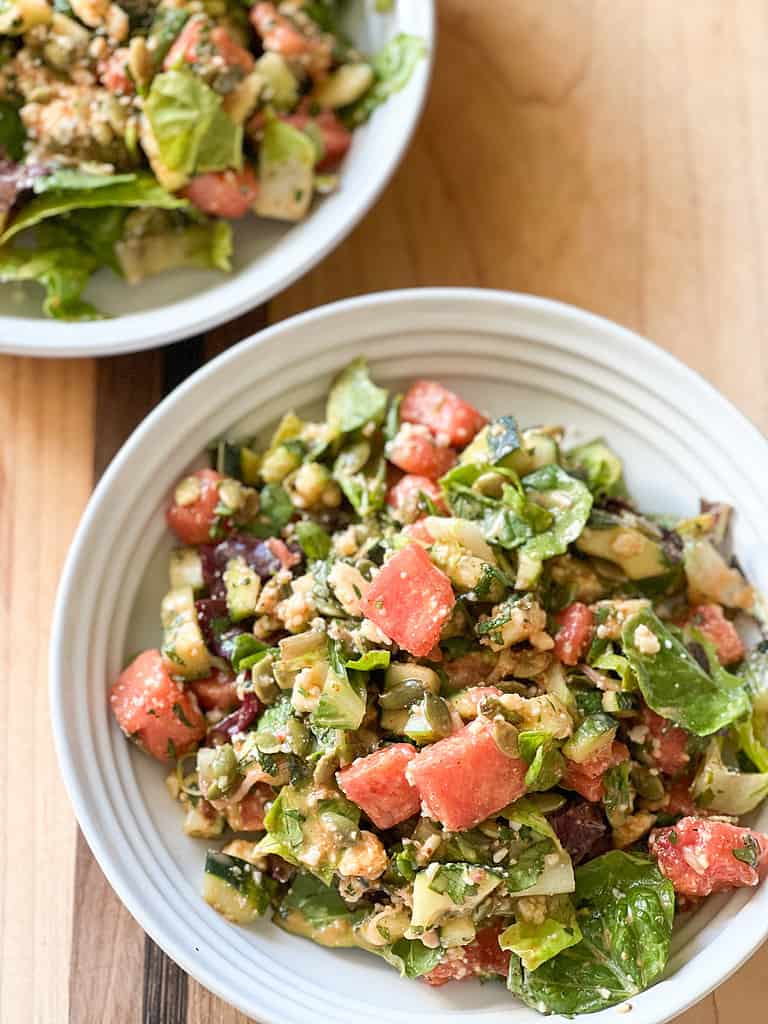 More Salads to Inspire You
Salads are definitely great all year round and when we use the ingredients of the season they are absolutely a delicious meal option for speedy weeknights. Here are a few more to keep in rotation any time of year: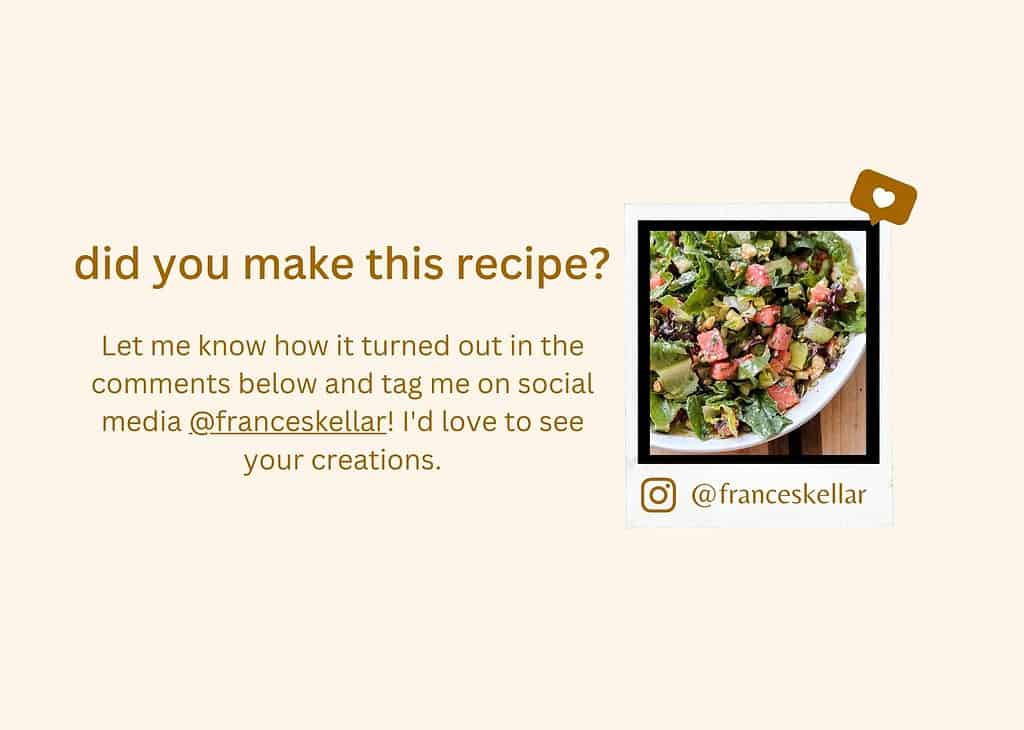 The Best Watermelon Salad with Easy Chili Lime Dressing
This summertime salad offers a sweet and spicy change up from the usual Watermelon Feta Salad. Mexican inspired ingredients take this summer fruit to new heights.
Equipment
1 high-performance blender or immersion blender
Ingredients
Watermelon Salad
2

cups

diced fresh watermelon chunks

1

cup

diced fresh cucumber chunks

1/2

cup

roughly chopped mint and cilantro leaves

1/3

cup

toasted pumpkin seeds

1/2

cup

crumbled cotija cheese

1

avocado

skin and seed removed and flesh diced into chunks
Quick Pickled Shallots
1

medium shallot (approx. 2 inches in length)

thinly sliced

3

tablespoons

apple cider vinegar

3

tablespoons

hot water

1

teaspoon

granulated sugar

1/2

teaspoon

kosher salt
Chili Lime Dressing
1 to 2

teaspoons

Chili lime seasoning or Tajin

Use 1 teaspoon for mild heat; 2 teaspoons for a little more heat.

2

tablespoons

lime juice

1

tablespoon

raw local honey or agave

1/4

cup

extra virgin olive oil

1/2

teaspoon

kosher salt

1

small shallot

roughly diced
Instructions
To make the quick pickled shallots: whisk the vinegar, water, sugar, and salt in a small bowl until the sugar and salt dissolve. Add the thinly sliced shallots and allow to sit for about 10 minutes to allow shallot to quickly pickle while assembling the rest of the salad ingredients.

To make the dressing: place all ingredients into a blender and blend until smooth. Alternatively, place all ingredients in a tall cup or jar and use an immersion blender to blend until smooth.

Add dressing to the bottom of a large salad bowl. Dice your watermelon and cucumber, as needed, and add to the bowl. Add remaining ingredients then toss everything together then top with more avocado and cotija, as desired.