Braised Lentils with Thyme and Garlic makes for a wonderful side dish to accompany an herb roast chicken or slow roasted salmon. I like making a batch of these to stretch over a few dinners for easy weeknight prep.
This recipe is inspired and adapted from a recipe in Williams-Sonoma's cookbook on San Francisco that I've had for more than 15 years now. It's such a great book to have on hand for regional dishes in a city I personally love.
Ingredient List for Braised Lentils
Braised lentils requires only a few simple ingredients and will pack hearty, earthy flavor. Here's what we'll need:
French Green Lentils: These are smaller in size and dark greenish gray in color. What I love about these is that they hold their shape when cooked and their flavor is hearty and earthy, which is perfect for this dish.
Mirepoix: Carrots, onion, and celery are cooked low and slow to help sweeten rather than caramelize them. This will add depth of flavor to the earthy lentils.
Garlic & Herbs: Our flavoring components for this dish are garlic and herbs. Feel free to swap our the herbs based on what you have on hand. Here, a mix of thyme and a bay leaf adds bright and earthy flavor tones to this dish.
Stock of Choice: While this recipe calls for chicken stock, feel free to use vegetable stock here.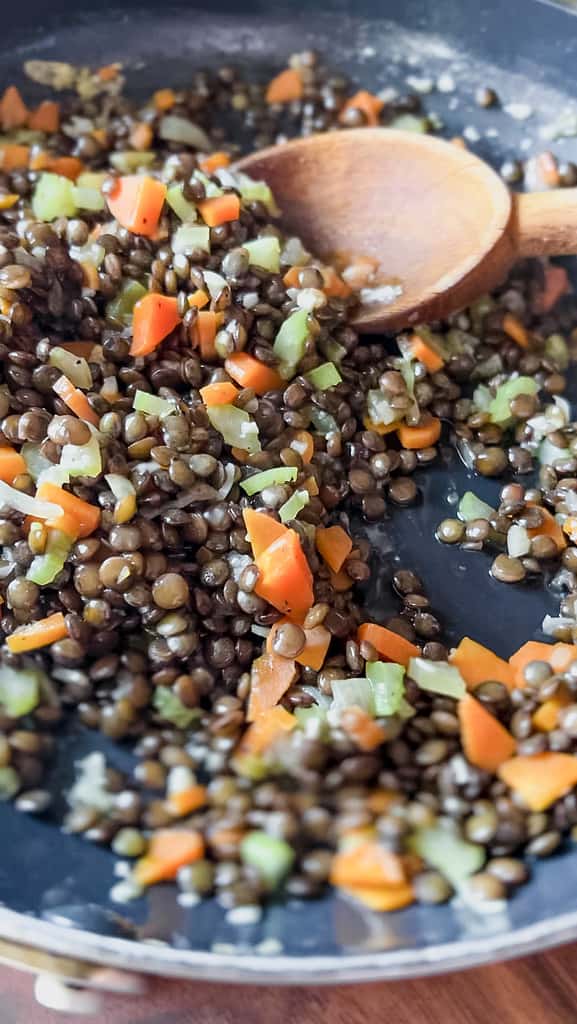 How to Prepare Braised Lentils
To prepare this dish, begin by bringing chicken stock to boil. Next, add lentils followed by the thyme sprigs and bay leaf. Lower to a simmer and cook until lentils are tender to the bite, about 20 minutes. While the lentils cook, prepare the vegetable mixture.
Cook the carrots, onion, and celery in a bit of olive oil and butter. Once cooked down, add the garlic.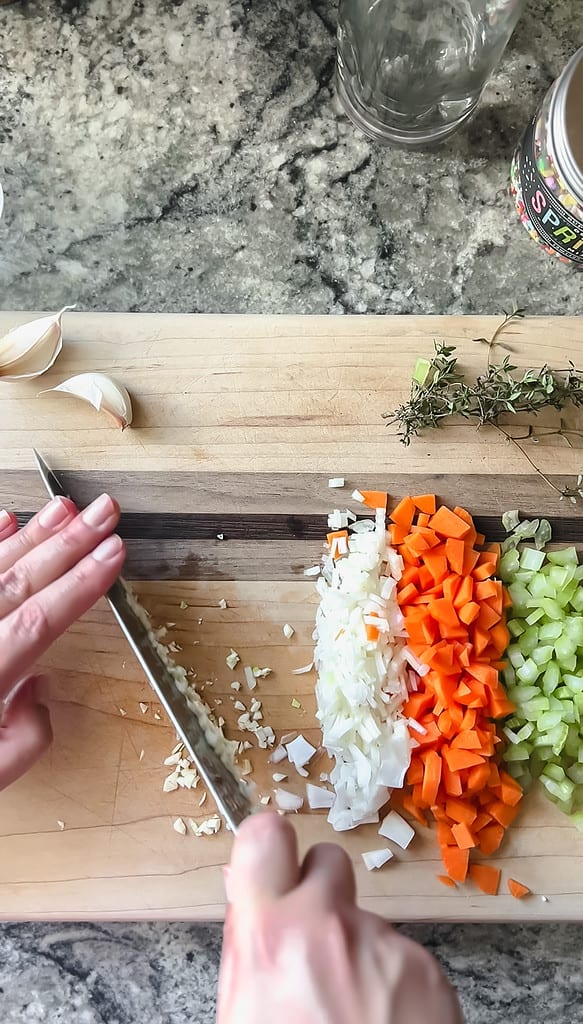 Once vegetables are ready and the lentils are cooked, spoon cooked lentils into the vegetable mixture. Stir everything together until well combined. And that's it! Serve this alongside a main dish like an herb roast chicken or slow roasted salmon.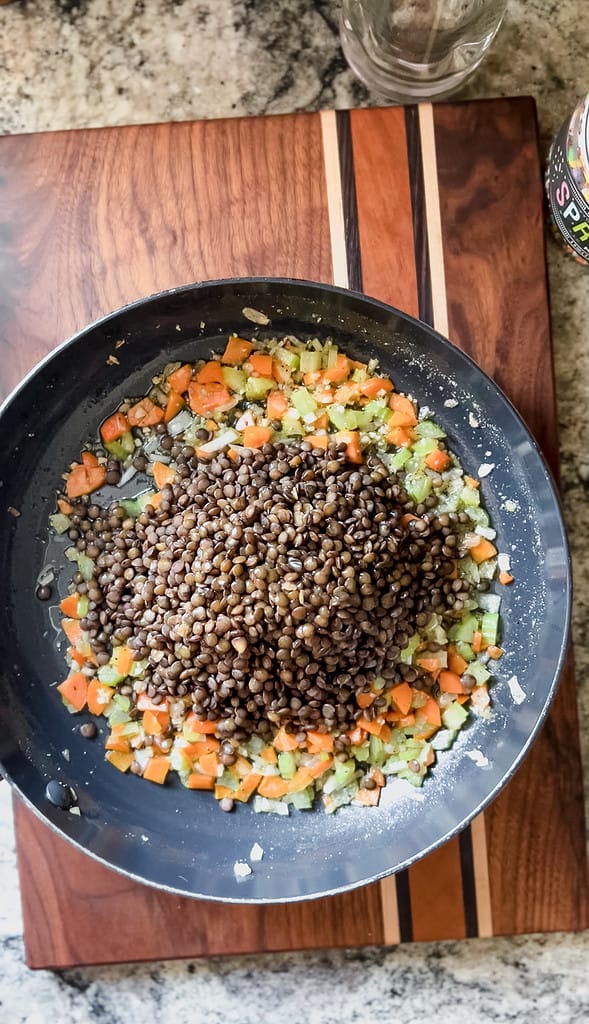 More Easy Dinners to Love
There are so many more dinners on this page to enjoy. If you're look for easy spring pastas, this pasta with broccolini and sun dried tomatoes is a good one to try next!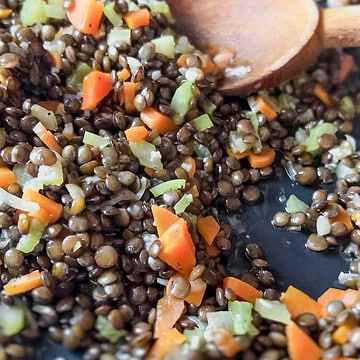 Braised Lentils with Thyme and Garlic
A weeknight side dish that is ready in 30 minutes to accompany an herbed roast chicken or slow roasted salmon.
Ingredients
1

cup

dried French green lentils

2

cloves

garlic

minced

1

medium carrot

peeled and finely diced

1

medium celery stalk

finely diced

1/2

yellow onion

finely diced

2

cups

chicken stock

1/2

cup

dry white wine

4

sprigs fresh thyme

1

bay leaf

2

tablespoons

olive oil

3/4

teaspoon

kosher salt plus more to taste

1/4

teaspoon

ground black pepper plus more to taste

Optional: 2 tablespoons unsalted butter

Chopped fresh parsley leaves for garnish
Instructions
Bring stock to a boil in a large sauce pan. Add lentils, thyme, and bay leaf. Bring to a simmer and cook lentils, uncovered, until tender, about 15 to 20 minutes. Most of the liquid will evaporate but lentils should be tender to the bite.

Heat 2 tablespoons olive oil in a nonstick skillet over medium heat. Add carrots, onion, and celery to the pan. Cook vegetables, stirring occasionally, until softened and translucent, about 5-7 minutes. Add garlic and stir for one minute so garlic becomes fragrant and combined with vegetables.

Increase heat to medium high and stir vegetables often until they begin to a lighten brown at the edges. Add white wine and stir frequently until most of the liquid has evaporated, about 5 minutes. Low heat back down to medium low to prepare to add lentils.

Once lentils are cooked, remove thyme sprigs and bay leaf. Using a slotted spoon, spoon lentils into the nonstick skillet and stir everything until well combined. If using, add two tablespoons unsalted butter and stir until melted. Garnish with parsley, season with more kosher salt and pepper as desired. Serve immediately.