You must make this easy lasagna soup for a delicious weeknight meal. Lasagna soup has quickly become one of those viral recipes and I can see why. All the best parts of the lasagna are in this dish and it's ready in half the time! Major win.
This lasagna soup is so easy to make. After seeing one of my favorite chefs and entrepreneurs, Ellen Marie Bennett, make this on a recent Reel on Instagram I knew I had to try it. I love that you can also customize it to your tastes. For this version, we use ground Italian sausage and make a quick tomato sauce using diced tomatoes, tomato paste, and a hint of diced Calabrian chili peppers. The chili peppers can definitely be optional, but they add a warmth that you just don't get from crush red pepper flakes.
Disclaimer: This post contains affiliate links via Amazon for products that I wholeheartedly love.
Making this Easy Lasagna Soup
Check out my Reel here as a cooking video preview on how we make this delicious dish. Here's how we make it:
First, we start by prepping the tomato sauce. We'll blend it up until smooth. You can use a blender, a food processor, or an immersion blender. I used an immersion blender here. This one is my favorite.
Next, we'll cook the lasagna noodles until just al dente and reserve about 1 cup of pasta water for the sauce. My favorite part is breaking up the lasagna noodles to cook them until al dente. It's kind of a stress reliever as we crack the noodles with our hands, breaking them up into shards. You can break them up as big or as small as you like.
While the noodles cook, we'll start working on the sauce by browning the sausage. Browning the Italian sausage help to cook ahead of time plus you'll have these lovely brown bits to deglaze with a bit of red wine (or stock of choice) and that will flavor the sauce nicely.
Add your onions and garlic, deglaze with wine and then pour in the tomato sauce. Add in the cream and seasonings before adding the pasta back in. We'll end with adding the sausage back in and all the cheese. How easy is that??
As always, let me know if you make this recipe by tagging me on Instagram. I can't wait to see what you make!
In the meantime, cheers to the next nourishing meal. ❤️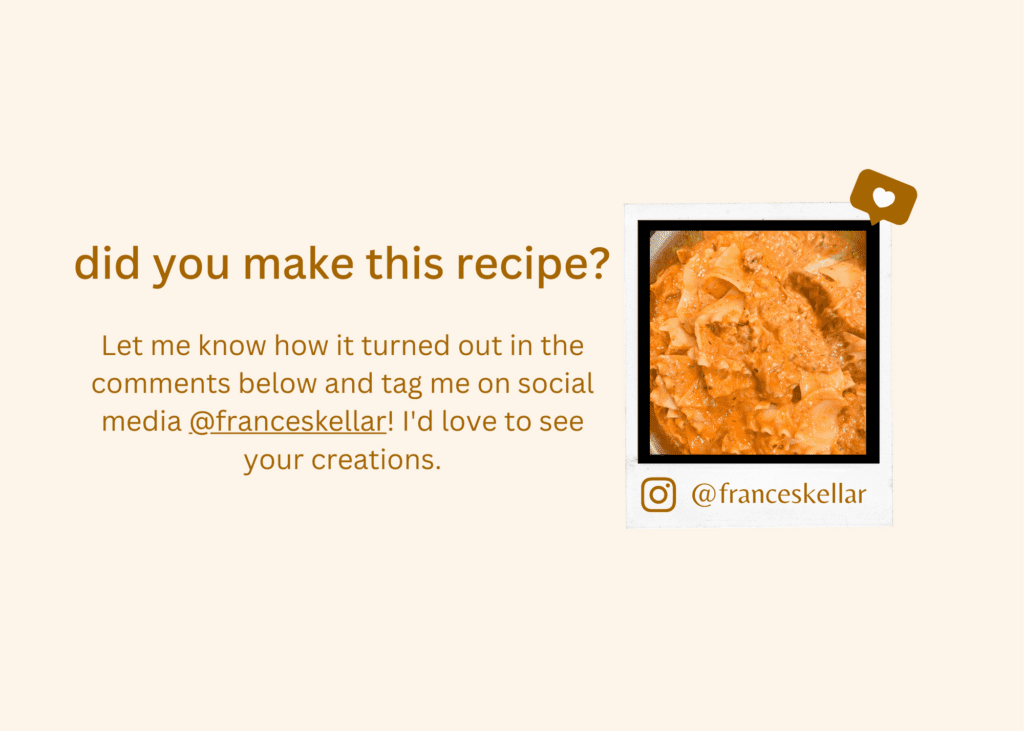 Easy Lasagna Soup
This dish has all the great makings of lasagna but can be ready in half the time.
Ingredients
1/2

lb

lasagna sheets broken into pieces

1

lb

Italian sausage

1

tsp

chopped Calabrian peppers

2

tablespoons

tomato paste

1 14.5

ounce

can diced tomatoes

1/4

cup

cream

3

tablespoons

olive oil

1/2

medium onion chopped

2

garlic cloves minced

1

teaspoon

dried Italian seasoning

1/4

cup

red wine

1

cup

shredded mozzarella

1/3

cup

freshly grated parm

Chopped fresh basil for garnish
Instructions
Blend together the diced tomatoes, Calabrian peppers, and tomato paste until well blended. A food processor, immersion blender, or blender works well here. Set sauce to the side until ready for use.

Bring a large pot of salted water to a boil. Take lasagna sheets and break them into pieces. Add to the boiling water and cook until just al dente, about 6 minutes. Reserve about 1 cup of pasta water for the sauce.

In a large sauté pan or skillet, heat 1 tablespoon olive oil over medium heat. Add in the sausage and brown, about 5 to 7 minutes. Remove sausage from pan.

Add in the diced onions and sauté until translucent, about 5 minutes. Add garlic and stir for 60 seconds until fragrant.

Add red wine to deglaze pan and scrape off any brown bits using a wooden spoon. Pour in reserved pasta water.

Pour in the blended tomato sauce. Add the cream and Italian seasoning. Stir until everything is well combined. Add the al dente pasta and toss together to coat in the sauce.

Add the cooked sausage back in along with the cheeses. Stir until cheese is melted and everything is well combined. Serve in pasta bowls and garnish with fresh basil. Enjoy!