Whether you grow them in your own garden or they are weekly regulars in your summertime CSA box, many of us always wonder how to know when shishito peppers are ripe for harvesting. This article today tackles all the essential information about shishito peppers including:
What are Shishito Peppers?
How to grow Shishito Peppers?
How to know when Shishito Peppers are ripe for harvesting?
Two ways to enjoy these Summertime Peppers
Keep reading for this awesome mini-guide to one of the popular pepper varieties and scroll down for a bonus recipe which is one of my favorite dishes to enjoy these delicious peppers!
What are Shishito Peppers?
Shishito peppers come from the Capsicum family, which includes both sweet peppers and hot peppers. These small, elongated peppers have a thin skin that is slightly wrinkly. Plant them in a raised bed garden or a container measuring a little less than 2 feet in diameter and they will produce these mild peppers all summer long.
In a given bag, one chili pepper may be mildly spicy, though I've not yet experienced this. Shishito peppers are mild in heat with a slightly sweet flavor. Some will say they are similar to green bell peppers and barely register on the Scoville Scale with about 50-200 scoville heat units. For comparison, jalapeño peppers can range from about 2,500-8,000 on the same scale. These peppers are savory and great in sautés and, as you'll see in the recipe below, in the style of a stuffed pepper or chile relleno.
For most summers in our CSA box, we've gotten a few bags of these slender peppers that are usually a bright green color in mid to late summer. These peppers are also found at farmers markets around the same time and I'll usually buy a couple bags to freeze.
How to Grow Shishito Peppers?
This summer, I'm trying my hand at growing them in a container in our small urban vegetable garden. I'm so excited to grab a couple shishito pepper plants and plant them in our garden beds area. Our urban garden space spans about 3 feet by 6 feet though the space is definitely growing with a couple more containers in the summer months.
Being in zone 9b, we are fortunate there are a number of vegetables we can grow in our bright sunny spot that is filled with close to 6 hours of sun. As I learn to grow a home garden, here are a few things I'm learning about what shishito plants need to grow abundantly:
​Light: These delicious japanese peppers need a warm climate with full sun. Plant your peppers in places where they can get between 6-8 of direct sun each day during the prime growing period for your area.
Soil and Fertilizer: It's important to create good drainage for your green peppers. Growing these plants in a container I've drilled holes to ensure proper drainage. Periodic fertilizer is strongly recommended. I fertilized our plants at the first plant and intend to fertilize every 3 to 4 weeks until they're ready to harvest.
Water: Since we're growing our shishito plants in a container, we'll work to keep the soil moist during hot weather. Plants grown in a raised bed can usually go a week between watering, unless the weather is really warm. Container grown shishito peppers will likely need to be watered every couple of days at minimum.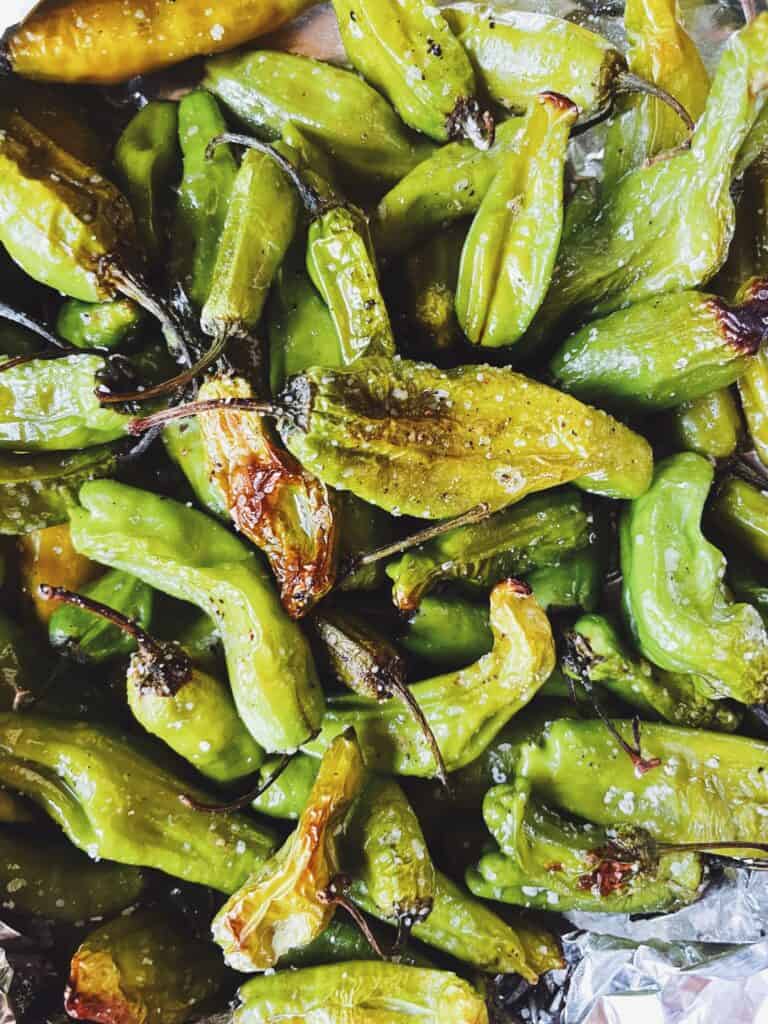 How to Know When Shishito Peppers are Ripe for Harvesting
We start to see ripe shishito peppers about 60 days after plants are transplanted to the garden. Shishito pepper plants will continue to flower and produce fruit until the nighttime temperatures dip below 50°F. For us here in California, that's likely well into early autumn. We're pretty lucky with that!
When green shishito peppers reach their full size, between 3 to 5 inches in length, we can begin harvesting them. Whole peppers may also measure about 2 inches long but are still fully edible and equally delicious. If we keep the peppers on the plant a little longer, the green shishito peppers will begin to ripen into red shishito peppers. These can sometimes have a more spicy flavor than green shishito peppers but we can still eat them. What's great about the red peppers is that we can harvest the seeds. Cut red, fully ripe peppers open then scrape out the seeds. Allow harvested seeds to dry completely then store in a cool, dry place until the next year when you are ready to plant.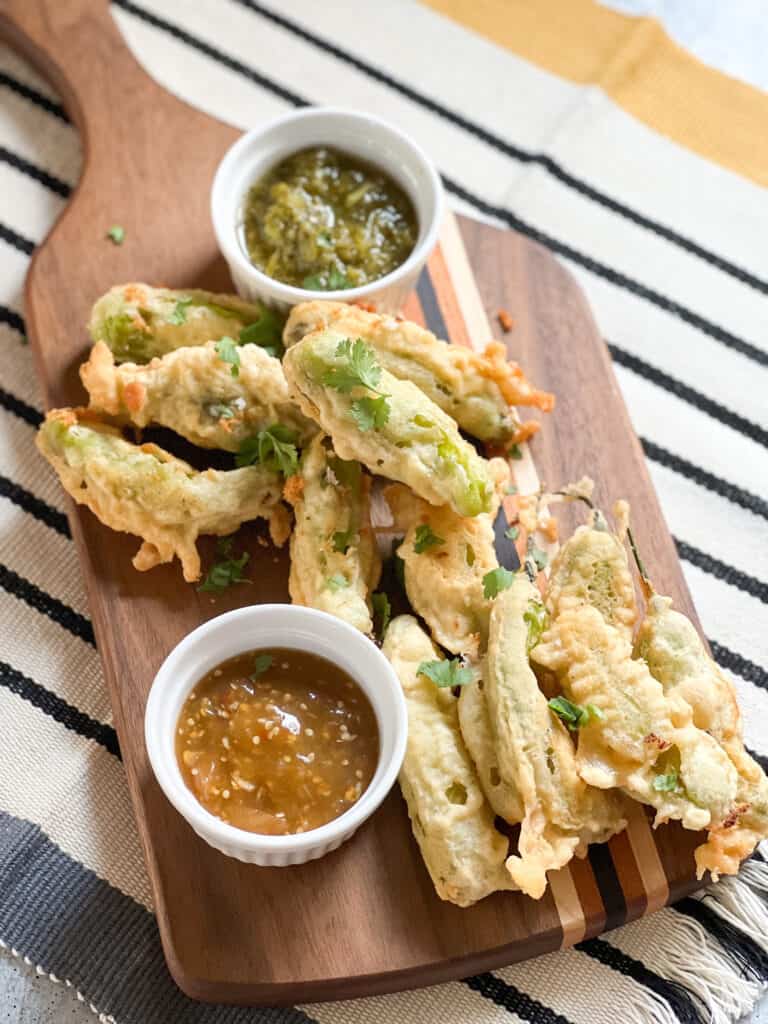 Two Ways to Enjoy these Summertime Peppers
The first way to enjoy these fresh peppers is with a simple sauté in a little oil such as olive oil or canola oil on medium-high heat in a single layer. Sauté these fresh shishito peppers until the edges are crisp and the peppers begin to just blister. Serve on a platter with some flaked sea salt and a small dish of soy sauce for dipping. This is definitely a great way to enjoy them.
However, I will say my favorite way to enjoy these fresh shishito peppers is stuffed like a small chile relleno. You can get the recipe for my Shishito Rellenos here. The texture of the peppers fried in a light tempura batter and stuffed with a variety of Mexican cheeses is so delicious and makes for a wonderfully fun appetizer. This recipe is a great addition for celebrating Shishito Summer. No matter how you enjoy them, Shishito Peppers are just one of the best peppers to celebrate summer produce.