Today's How To is a guide focused on making an Inspired and Hearty Robust Heirloom Tomato Sauce. This is meant to help us lean into seasonal cooking with a bit of intuitive guidance. With this guide in our pocket we can make a stellar sauce anytime of year with a handful of flavorful ingredients. Let's get cooking!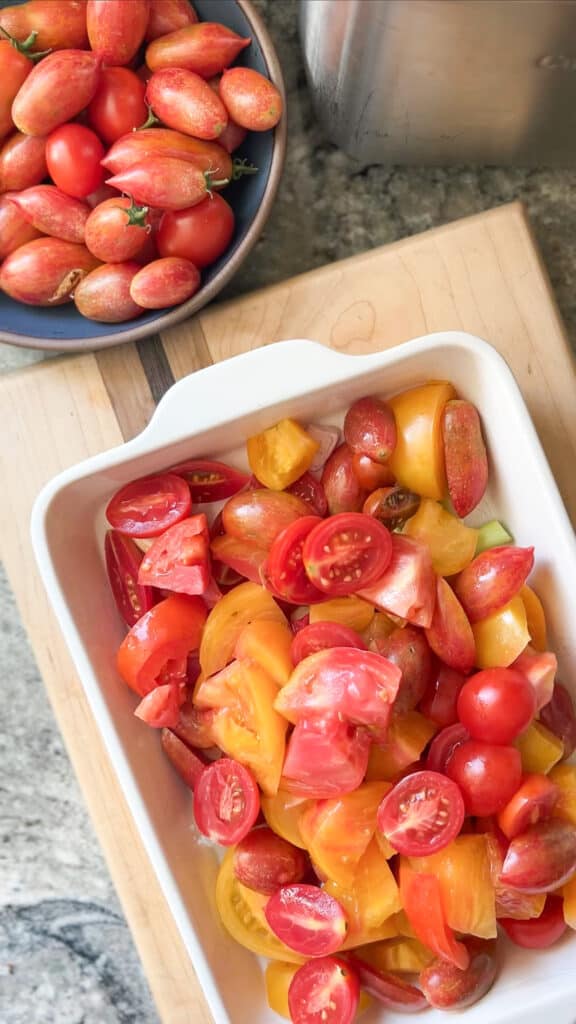 A Seasonal Heirloom Tomato Sauce from Simple Ingredients
Whether we're getting them in our CSA boxes or finding them at the farmers market or grocery store, tomato summer is the best. Vine ripened tomatoes are versatile in so many dishes. When we have a batch on hand, I love to make this simple sauce. I use five foundational elements to make this simple tomato sauce:
Tomatoes: you can really use any tomatoes you like. I'll use this recipe format for grape or cherry tomatoes, red hot house or Roma tomatoes, and the heirloom varieties. Either way, we need the tomatoes here. If you've got cracked or split tomatoes, see this post on why that's happening and what you can do to cook them up.
Aromatics: I love garlic as an aromatic here. Use as much as you like. I tend to be heavy handed with it using about 6 to 8 cloves. You can also use onion in lieu of garlic. I'd recommend half a white onion or yellow onion, cut in rough chunks.
Fresh Herbs: During summer I'll use loads of fresh basil. If I've frozen tomatoes for winter I'll use rosemary and thyme. Herbs add a punch of flavor here so we'll definitely need them.
Kosher Salt: In addition to flavoring our sauce with aromatics and herbs, salt is key here too. You can also add in some ground black pepper and a pinch of red pepper flakes for some heat.
Olive Oil: Use the best quality olive oil you have on hand. This is our cooking fat but good quality olive oil also offers great flavor.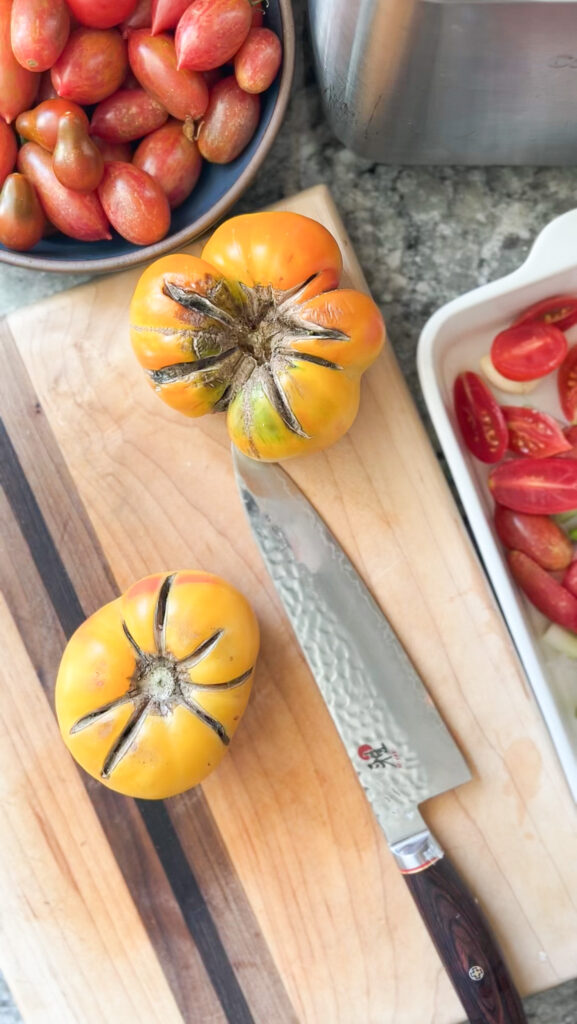 Preparing the Robust Heirloom Tomato Sauce
Preparing this hearty and robust heirloom tomato sauce requires just a few simple steps:
First, wash and trim your tomatoes. Cut larger tomatoes into smaller chunks. If using grape or cherry tomatoes, cut them into quarters or halves.
Next, layer the tomatoes in your roasting or baking dish. Drizzle generously with olive oil and season with kosher salt, ground black pepper, and crushed red pepper flakes if using.
Add your fresh herbs and give everything a gentle toss before roasting in a 400 degree Fahrenheit oven for about 30 to 40 minutes. Roast the tomatoes until their tomato juices release. You want them slightly blistered and soft.
Purée the roasted tomatoes in a food processor or blender. Blend it all together until smooth. Use immediately or store in an airtight container for future use.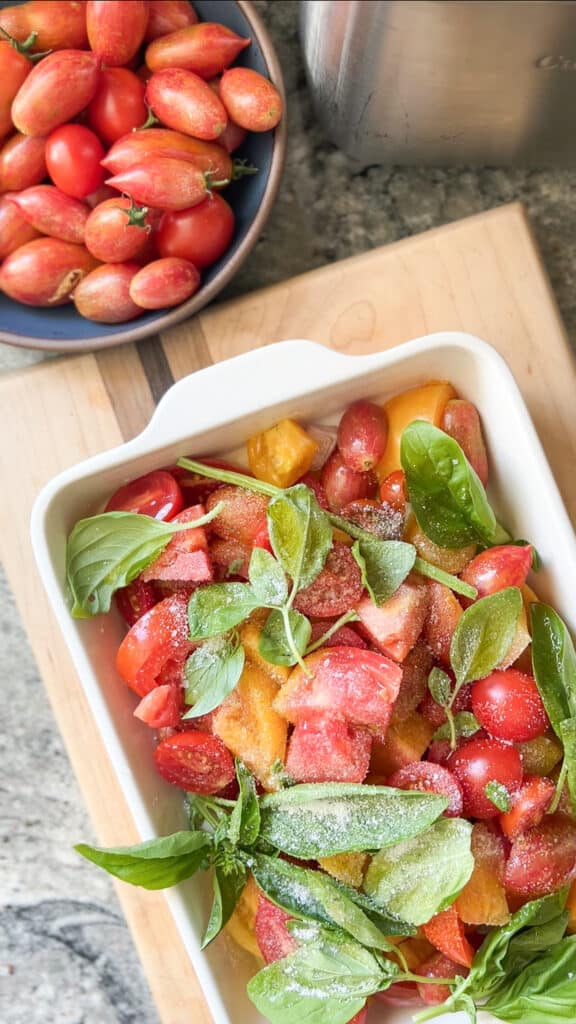 Freezing and Storing Your Hearty and Robust Heirloom Tomato Sauce
One great way to store our heirloom tomato sauce is to freeze it. It's super simple to do and saves the step of canning tomato sauce. You can also go through the steps to process and can tomatoes for sauce.
I've loved making sauce and freezing it this for a few years now. Freezer tomato sauce will keep for up to 6 months if stored in an airtight and freezer-safe container. Simply portion your sauce into your chosen freezer safe container, seal them up and freeze. When ready to use, defrost your sauce in the refrigerator overnight then use it in your chosen recipe.
This 30 minute tomato sauce is another variation on the one I'm describing here. This is proof positive just how adaptive the sauce can be when we're cooking with the seasons.
Let me know in the comments how helpful this is and leave any questions you have. I'm always happy to help. Cheers to the next nourishing meal. 🧡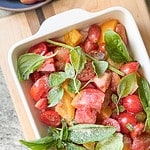 Print
A Simple Roast Tomato Sauce with Garlic and Basil
When it comes to seasonal cooking, it's all about adapting recipes we know and love. This how-to shows you the best ways to roast summertime tomatoes for a simple and flavorful sauce
Materials
2

pounds

tomatoes

any color and variety (grape, cherry, heirloom, red vine ripe, etc).

6

sprigs

fresh basil leaves

6

cloves

garlic

6-8 cloves work well here; keep them whole and peeled

kosher salt and pepper to taste

start with about a teaspoon of kosher salt and a half teaspoon ground black pepper; add more post roast for taste.

pinch of crushed red pepper flakes

optional
Instructions
First thing, preheat your oven to 400 degrees. Add tomatoes to a ceramic baking dish. Depending on size, you can slice the tomatoes in half or quarters. Spread tomatoes in an even layer in baking dish (measuring about 9×13″).

Drizzle with olive oil, and season with salt, pepper, and red pepper flakes.Layer your selected herbs. Think rosemary and thyme or fresh basil for summer. Add in a few cloves of garlic. Use as much garlic as you like! I like to use anywhere from 6 to 10 cloves for about 2 pounds of tomatoes.  

Roast tomatoes in oven for about 30 to 45 minutes until they are slightly blistered and soft.

Once roasted, add all the basil, garlic, and tomatoes to a food processor or blender. Blend everything together until combined.

Pour the sauce into a large skillet and simmer on low heat for 5 minutes to allow sauce to thicken slightly and flavors blend together. Add your cooked pasta and toss together to combine. Serve immediately garnishing with fresh parmesan and julienned basil. Alternatively, once blended you can place your sauce in freezer friendly containers and freeze for up to 6 months. 
Notes
This is a great base for roast tomatoes and is highly adaptable. Use different fresh herbs like rosemary and thyme if basil is hard to find near you.
You can also substitute dried herbs for fresh. If doing so, use about 1 teaspoon dried herbs to roast then add as desired for taste before blending.