In knowing how to make breakfast easy for fast, busy mornings I often turn to these Chocolate and Berry Overnight Oats. These are a great meal prep option and I always take comfort in knowing that a simple mix of old-fashioned oats, my favorite fruit, chia seeds, a splash of vanilla extract and oat milk mean I'm in for a treat the next morning. Overnight oats are a great way to start the day and power up with the perfect breakfast. This easy overnight oats recipe will become your new favorite way to enjoy this quintessential breakfast at the start of a busy week.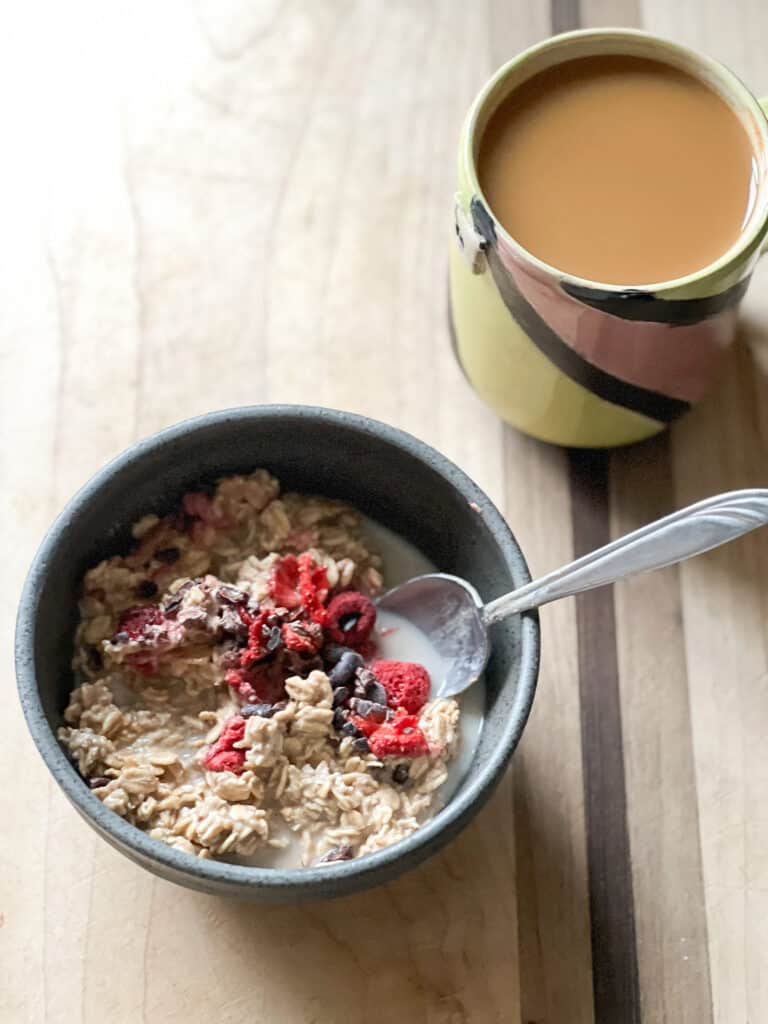 Ingredients for the Chocolate Berry Overnight Oats
Preparing these individual portions of the best overnight oats takes little time and a list of simple ingredients:
Old-Fashioned Rolled Oats: The texture in these soaked oats is so good when soaked with your milk of choice. Rolled Oats contain a number of health benefits including a type of soluble fiber which helps in lowering blood sugar and cholesterol levels. Oats are also great in aiding healthy gut bacteria especially when soaked with probiotic friendly ingredients.
Milk of Choice: My favorite milk for this healthy breakfast option is oat milk. I like the flavor of this non-dairy milk and how it creates a creamy texture with the oats. However, you can also use coconut milk, almond milk, soy milk, cashew milk or any plant-based milk or dairy-free milk that is your favorite.
Kefir: A fermented milk drink, kefir is loaded with calcium, protein, and essential B vitamins. It's a great option for probiotics. If you don't have kefir on hand you can definitely swap it for greek yogurt, plain yogurt, of your favorite vegan yogurt like coconut yogurt. All of these options are available at the local grocery store.
Maple Syrup: Pure maple syrup adds a bit of sweetness to our batch of overnight oats. It blends beautifully in the oat mixture and is a popular choice for sweetener. You can also use brown sugar in lieu of maple syrup.
Cacao Powder: the Chocolate in our Chocolate Berry Overnight Oats, cacao powder is a great source of magnesium and adds the chocolatey flavor we're crafting for these overnight oats.
Freeze Dried Berries: Freeze dried raspberries and strawberries worked beautifully here and soften slightly during the overnight oatmeal soak. In the morning, I'll top it off with some fresh fruit.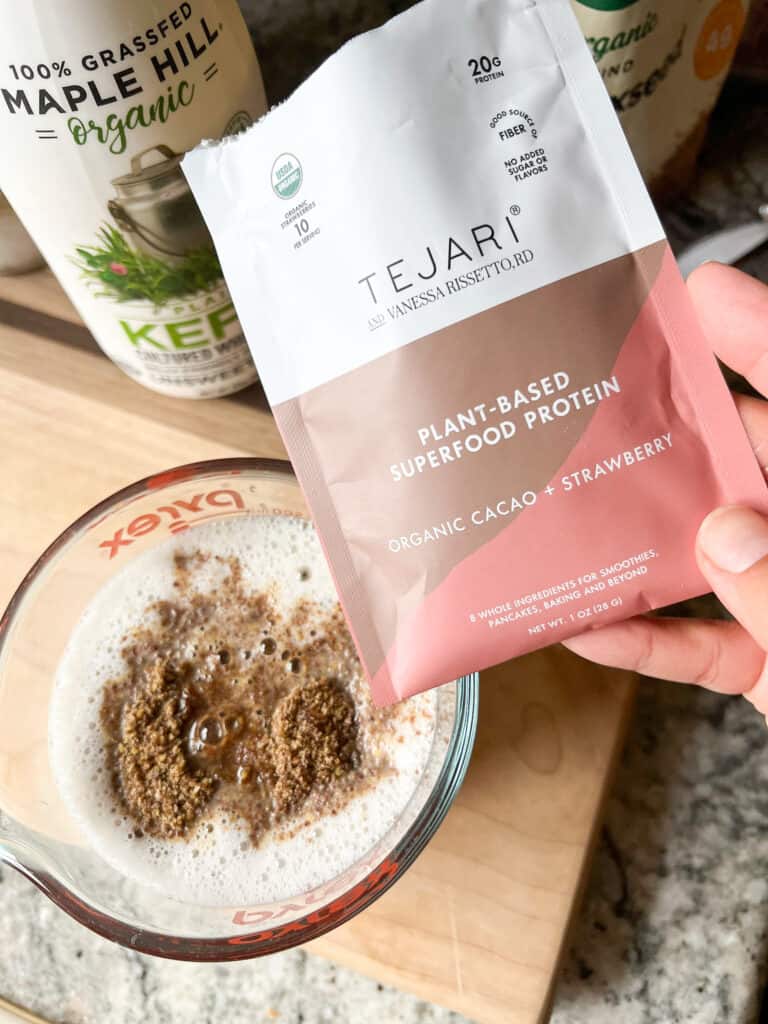 Easy Prep for the Chocolate Berry Overnight Oats
Making a big batch of these overnight oats is done in minutes. The best way to prep these overnights oats is by adding your raw oats to a large mixing bowl. Add your favorite milk, the maple syrup, kefir and cacao powder and mix. For a bit more oomph in these oats, we'll add some vanilla extract and ground flax seeds. Whisk the ingredients until well combined the divide the individual portions in an airtight container or a glass container. You can also portion out in small 8 ounce mason jars for each individual or single serving. Cover with lids and refrigerate at least 4 hours to overnight.
In the morning, stir the soaked oats, top with a 1/4 cup milk of choice and a cup of fruit of your choice.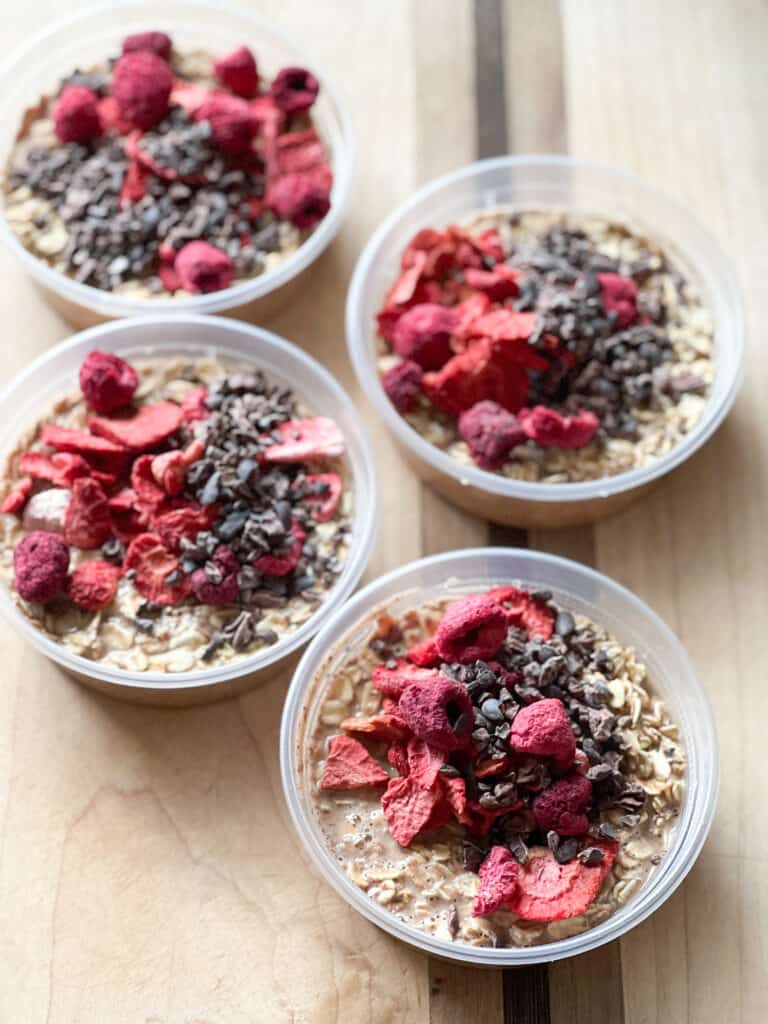 Storage Tips & FAQ
So how long do overnight oats last in the fridge? The soaked cold oatmeal can be stored in the refrigerator for up to 5 days. For best results store overnight oats in individual portions in airtight containers. Here are a few frequently asked questions when it comes to storing prepared overnight oats:
Can I freeze overnight oats? Yes! When stored properly (airtight container, tight fitting lid) overnight oats stored in a freezer-safe container can be stored for up to 3 months for its most optimal flavor. Allow the frozen oats to defrost at room temperature overnight and they'll be ready to enjoy next day.
Can I use gluten-free oats? Absolutely. This will not affect taste or the creamy texture of the oats.
What other toppings can I add? The options are endless! While this recipe shares one variation of making overnight oats, try experimenting with your favorite toppings and different flavors. A couple ideas:

Swirl in a tablespoon of peanut butter to the milk mixture with the cacao for a chocolate peanut butter blend. Add freeze dried or fresh banana and cacao nibs or chocolate chips.
Add in almond butter and a cherry compote or fresh cherries.
Top with hemp seeds and your favorite protein powder for extra protein and healthy fats. I love the protein blends from Tejari and this organic cacao + strawberry protein blend is perfect in this recipe too!
Add a dollop of your favorite seed butter and diced fruit.

Can I use steel cut oats instead? You can definitely use steel-cut oats but keep in mind there may be an added level of soak time. For these whole grains plan for a soak time for at least 10 hours.
When's the best time to prep the overnight oats? Depends on your schedule. Most weeknights, I'll spend a couple of minutes prepping the oats for the following morning. Other times, Sunday night is a good idea to prep the oats to help aid in the beginning of the week when mornings feel like they can get away from us fast.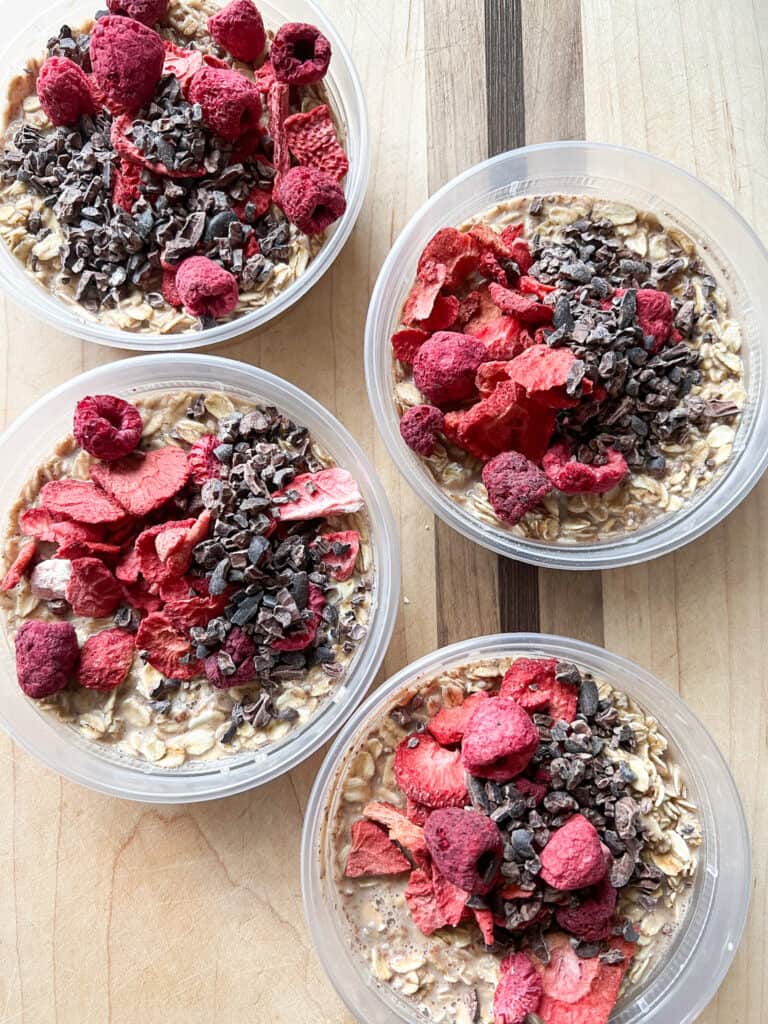 More Breakfast Options for Busy Mornings
During the week mornings fly and having breakfast options that are ready quick is a helpful strategy. Here are a few more favorites:
Easy Chocolate Berry Overnight Oats
This easy recipe for overnight oats has a stellar combo of chocolate and berry. It's a protein packed breakfast that fuels your morning ahead.
Ingredients
2

cups

organic old-fashioned rolled oats

1/2

cup

kefir

1.5

cups

oat milk

1

tablespoon

ground flaxseed

1

tablespoon

white chia seed

1

tablespoon

maple syrup

1

tsp

vanilla extract

1

tablespoon

cacao powder

4

tablespoons

of your favorite protein blend

Garnish Options: 2 tsp Cacao nibs, divided; freeze dried raspberries and strawberries
Instructions
Add all ingredients to a large mixing cup with pour spout or bowl. Whisk ingredients thoroughly to combine, then divide into jars or cups. Top with freeze dried fruit and cacao nibs.

Cover with lids and refrigerate for at least 4 hours to overnight. The next day, give oats a stir, top with a splash of oat milk and fresh fruit. Enjoy!

These will keep well store in your refrigerator for up to 5 days. If freezing, they can be stored in freezer for up to six months though for best result, eat them within 1 to 3 months.