This Savory Truffle Mac and Cheese hits all the right notes for comfort food on a weeknight. It's got all the classic elements of a good mac and cheese: a cheesy sauce, pasta shells, and loads of flavor.
We had about 4 cups worth of shredded truffle gouda cheese from a past Pizza Picnic night and this worked beautifully to create the truffle cheese sauce. Read more below for ways to make this dish along with substitutions to help keep the truffle taste.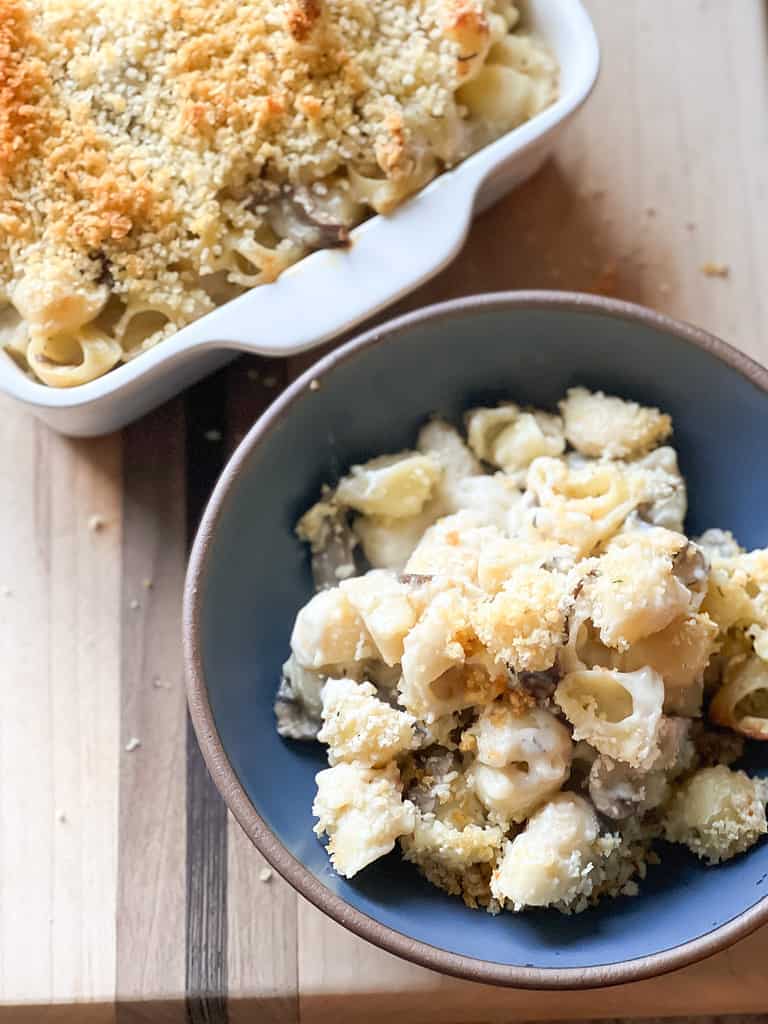 Truffle Mac and Cheese Essentials
To make this delicious and savory truffle mac and cheese, here is what we'll need:
Short Pasta: macaroni elbows, pipe rigate, penne, cavatappi. There are lots of pasta options to use here. Choose your favorite. For us, we used pipe rigate.
Truffle Gouda: We find truffle gouda either at our local cheese shop or at Whole Foods. This is a great option to get both the truffle flavor and cheesy sauce.
Assorted Mushrooms: This is great for more flavor and meaty texture. Here, we're using oyster and cremini mushrooms. You can also use trumpets, shiitakes, or enoki mushrooms. Use the mix you love or what you're able to find easily in store.
Garlic & Herbs: Fresh thyme and rosemary are great compliments to the truffle gouda and mushrooms.
Optional: truffle oil for finishing. This is required, but if you love the flavor of truffle, this is good to add to finish the dish.
A truffle oil option that we love to have on hand comes from one of our favorite local shops, VomFASS Claremont. This truffle oil has been great to drizzle as a finishing oil for this mac and cheese, other pasta dishes, and even popcorn.
If you can't find the truffle gouda, you can use the following blend:
2 cups shredded gouda
2 cups shredded white cheddar
1 tablespoon white truffle oil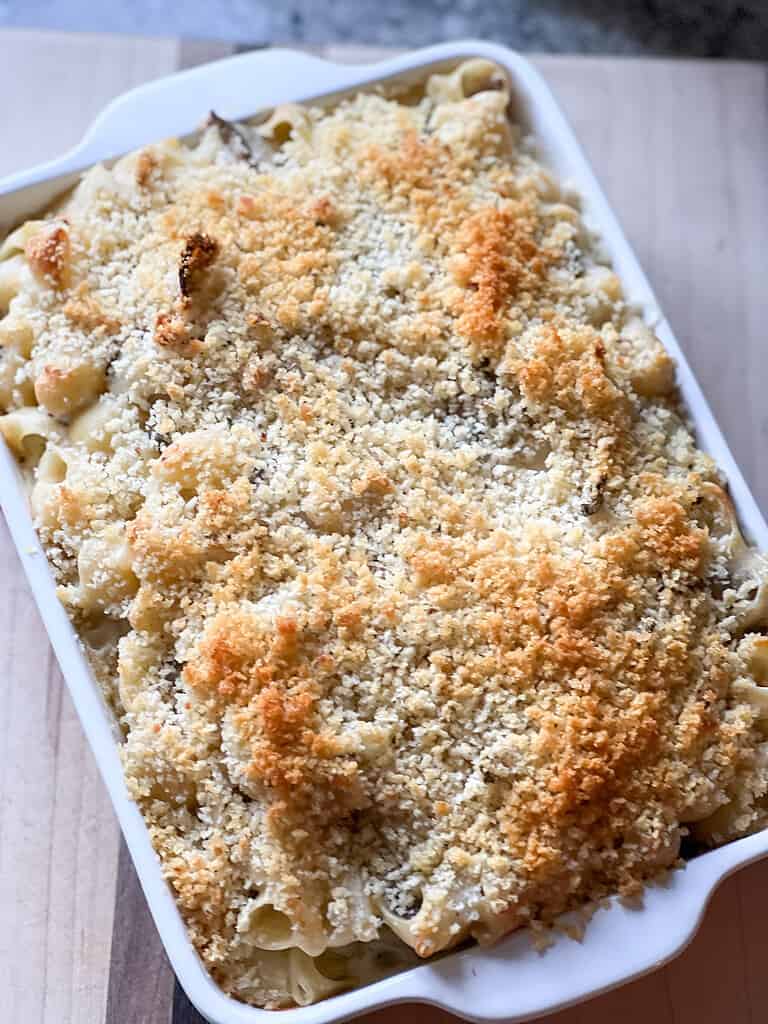 Prepping the Mac and Cheese
Prepping this dish will take a little less than an hour. This includes bake time, which will take approximately 30 to 40 minutes. First, we'll cook the pasta until al dente. Next we'll prep our mushrooms by sautéing them in a bit of olive oil and butter with garlic and chopped herbs. This adds great flavor to compliment our truffle gouda for the mac and cheese. Then we'll prep the cheese sauce, add in the shredded cheese until melted, and mix everything together before we bake it off and enjoy.
Scroll down for the full recipe below.
Classic Comfort Food Ideas
This Savory Truffle Mac and Cheese will become your new comfort food favorite. For more delicious pasta options, check out these delicious dinner dishes:
How did it turn out? Comment below and let me know if you make this recipe by tagging me on Instagram. I can't wait to see what you make!
In the meantime, cheers to the next nourishing meal. ❤️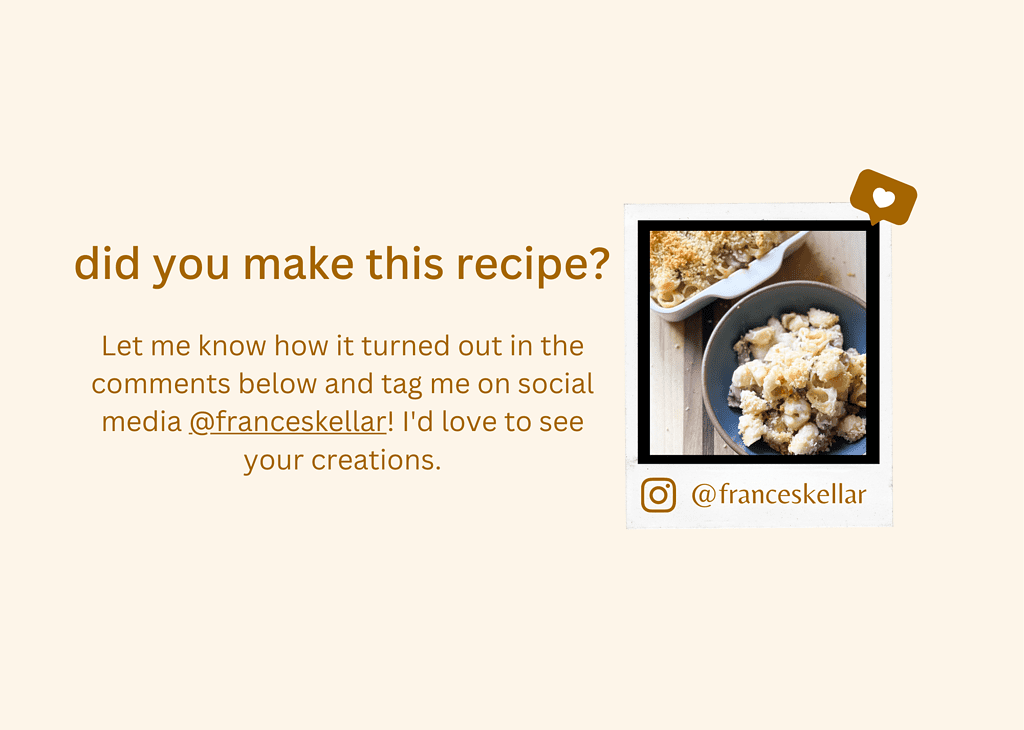 Savory Truffle Mac and Cheese
Comfort food at its best. Earthy and meaty umami flavors pair beautifully with sautéed mushrooms with garlic and herbs. This is a dish you'll crave.
Ingredients
1

pound

pasta shells or pipe rigate

4

cups

chopped assorted mushrooms

suggestions: oysters and creminis

1

tablespoon

chopped fresh thyme and rosemary leaves

2/3

cup

finely diced yellow onion

2

garlic cloves

grated

6

tablespoons

olive oil

divided

11

tablespoons

unsalted butter

divided

1

teaspoon

kosher salt

1/2

teaspoon

ground black pepper

1/2

cup

all purpose flour

4

cups

whole milk

4

cups

truffle Gouda cheese

shredded (see note for alternatives)

kosher salt and ground black pepper to taste

1

cup

Panko bread crumbs
Instructions
Prep pasta by bringing a part of salted water to boil, then cook pasta until al dente about 5 to 6 minutes. We don't want it all completely cooked through since we're going to bake it off in the oven. Drain pasta and set aside in a large mixing bowl. Meanwhile, grease a 9×13 baking dish with a tablespoon of butter or olive oil.

In a 3 quart sauté pan, melt 3 tablespoons butter with 3 tablespoons olive oil. Add onions and sauté until translucent about five minutes. Season with a pinch of kosher salt and add the mushrooms. Sauté mushrooms until browned, and all the liquid has been absorbed, about seven minutes.

Add the garlic and the chopped herbs and stir to combine with mushrooms. Set aside in a medium bowl and return sauté pan to heat.

Melt 8 tablespoons of butter in the sauté pan. Add half a cup of all purpose flour to create the roux. Whisk flour to combine with butter, then pour milk in a slow steady stream. Stir constantly until the sauce has begun to thicken, about 10 minutes. The sauce will begin to coat the back of a spatula or wooden spoon.

Remove sauce from heat and add in shredded cheese. Stir until cheese is melted completely. Taste sauce and adjust seasoning as desired with a little pinch of kosher salt and ground black pepper.

Add sautéed mushrooms and stir everything together until combined. Pour the mushroom and cheese sauce over cooked pasta in a large prep bowl. Then pour mac and cheese into the prepared baking dish.

In a small bowl, stir together the olive oil with bread crumbs. Sprinkle bread crumbs over the top of the mac and cheese. Bake until golden brown and bubbly, about 30 to 40 minutes. Allow to cool 10 minutes before serving.