Seasonal zucchini and basil are combined in this pesto sauce recipe for the perfect easy weeknight meal. This delicious combination of basil and zucchini makes an excellent option for a classic pesto pasta sauce or in a stuffed chicken breast. Scroll down for the how-to on preparing this seasonal homemade pesto and get the recipe card to make this tonight.
Ingredient List for this Easy Zucchini and Basil Pesto Sauce
We're using fresh ingredients and seasonal staples for this spin on a traditional sauce. Here's what we'll need: 
Fresh Basil: The sweet and fragrant nature of fresh basil is a staple in this classic pesto recipe. Whether from the garden, the farmer's markets, or a CSA box, basil offers a unique flavor that is a must for this sauce. 
Zucchini: We'll shred zucchini in the food processor and wring out any excess moisture before using it in our pesto sauce. I love the idea of using this summer vegetable in ways that go beyond the usual zucchini bread or muffin. It offers a flavorful taste to this sauce.
Garlic Cloves: Two will do here though you can definitely use more if that is what you want to do. We're using the more flavorful purple garlic we've been getting in our CSA box.
Toasted Pine Nuts: Toasting pine nuts prior to processing them in the sauce will be important. To do this, add the pine nuts to a small nonstick skillet and heat over medium heat stirring frequently until the edges of the nuts begin to brown and turn golden. Allow them to cool slightly before adding to the food processor.
Parmesan Cheese: Rather than blend it in the food processor, we'll fold in the cheese at the end which I think helps the cheese naturally melt in a variety of pasta dishes.
Extra Virgin Olive Oil: Use good quality extra virgin olive oil here since we're using a simple list of ingredients. Good quality ingredients yield high-impact flavor. My go-to olive oil for everyday cooking is California Olive Ranch.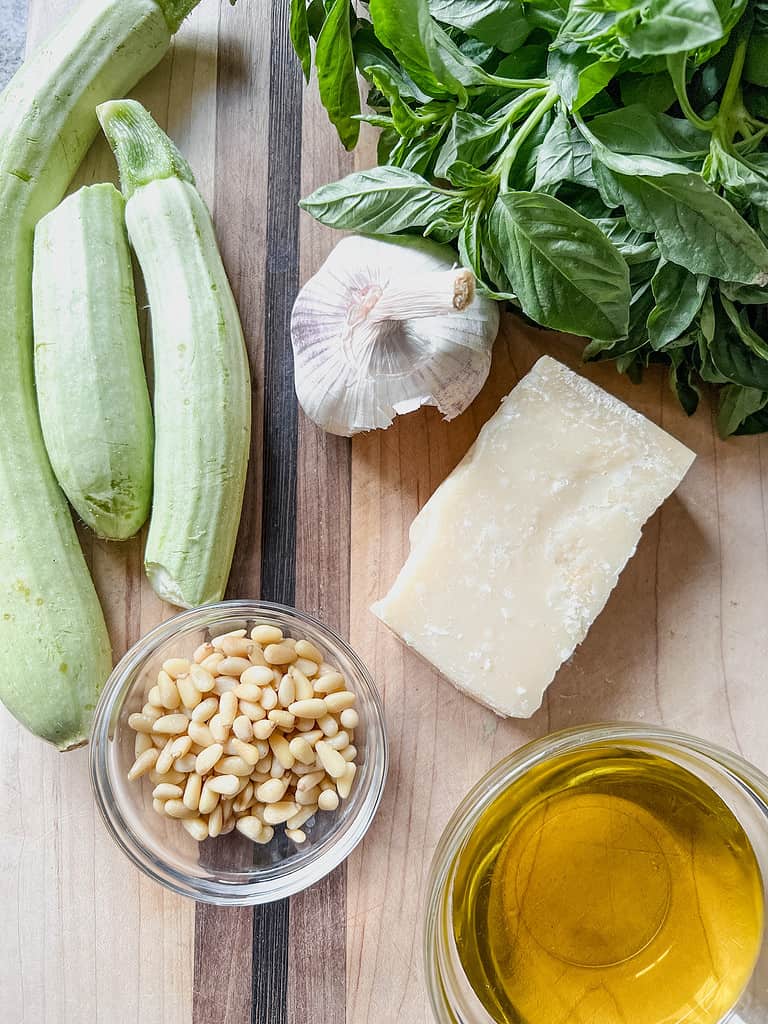 Preparing the Zucchini and Basil Pesto
Preparing the Zucchini and Basil Pesto takes minimal prep and it's ready in minutes. First, we'll want to shred the zucchini and place it in a clean kitchen towel to wring out or squeeze out excess moisture. Place the zucchini back into the food processor fitted with a chopping blade. Add the basil leaves, garlic cloves, toasted pine nuts and season with kosher salt and pepper. Process until smooth then add in the olive oil in a slow, steady stream. The video below offers a preview on how to make the sauce in a food processor. 
Using and Storing the Zucchini and Basil Pesto Sauce
Pesto is such a versatile sauce and this Zucchini and Basil Pesto Sauce is going to make a great addition to the recipe rotation. What are the ways to use it? There are plenty of ideas to use this sauce filled with authentic italian flavors:
Use your favorite pizza dough to make a pesto pizza using the pesto and top with fresh mozzarella cheese and fresh tomato & basil.
Make pesto chicken by stuffing chicken breast with a few tablespoons of pesto sauce and part-skim milk shredded mozzarella. Bake for 30 minutes in a 400 degree oven until temperature of chicken reaches 165 degrees Fahrenheit and cheese is melty.
Slow roast salmon and top with pesto for an easy and flavorful pesto salmon that's perfect for a speedy weeknight dinner.
You can also freeze pesto! To do this: portion out your pesto sauce in a silicone ice cube tray and freeze overnight. Remove cubes and place in a freezer bag. You can store pesto in the freezer for up to 9-12 months. This is a great option for using seasonal ingredients to make pesto.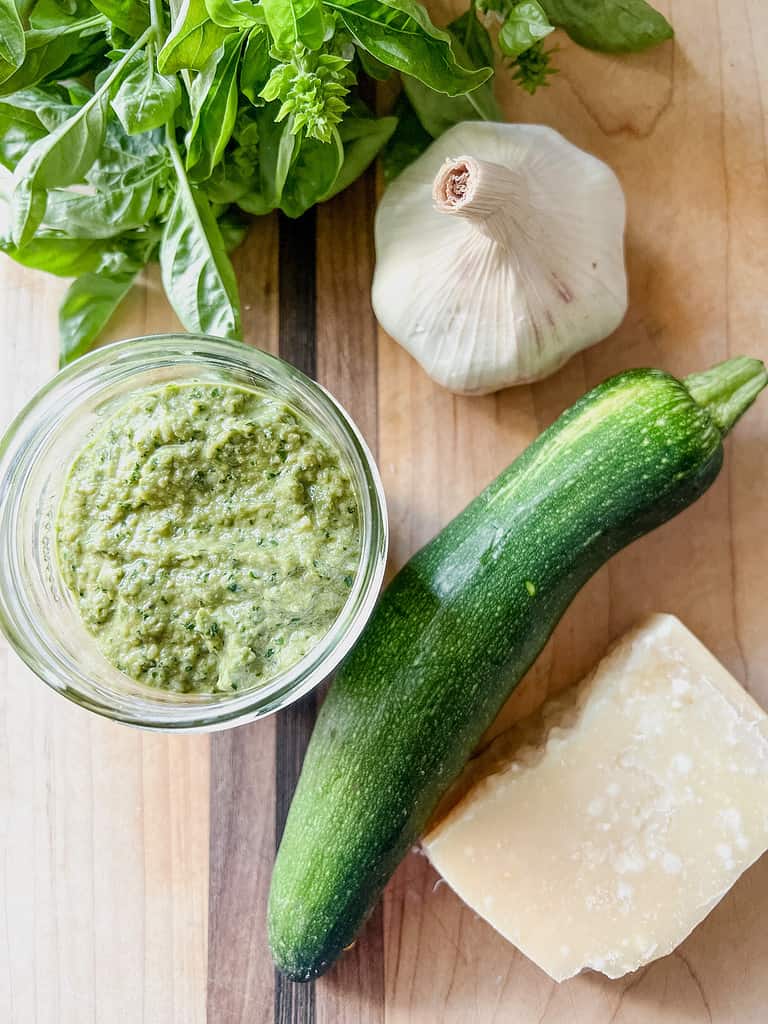 More Easy Zucchini Dinner Ideas
With Zucchini Season in full swing there are lots of ways to use this summer staple. This pesto is just one example of zucchini's versatility. If you're looking for additional pesto or zucchini recipes, check out these tasty ones below:
Zucchini and Basil Pesto Sauce Recipe
An easy way to use up summertime zucchini. This Zucchini and Basil Pesto Sauce will be your new favorite for easy and speedy weeknight meals.
Equipment
1 food processor or blender
Ingredients
1

medium zucchini

grated (yields about 2 cups)

2

large cloves garlic peeled

1/4

cup

toasted pine nuts

1/2

cup

grated Parmesan cheese

2

cups

packed fresh basil leaves

1/2

teaspoon

kosher salt

1/2

teaspoon

fresh-ground black pepper

1/2

cup

extra virgin olive oil
Instructions
In a food processor fitted with the shredding disc, grate the zucchini. Scoop zucchini out of the bowl and onto a clean kitchen towel. Alternatively, you can use a few layered paper towels. Wrap the towel into a ball around the zucchini, hold over the sink, and wring out the excess moisture with your hands.

Replace the food processor's shredding disc with the standard chopping blade. Return the shredded zucchini to the bowl. Add garlic cloves, toasted pine nuts, basil, kosher salt, and ground black pepper. Process until smooth.

With the food processor running, add the olive oil in a slow steady stream until the pesto reaches the desired consistency. Taste and adjust seasoning as necessary.

Scoop out the pesto and fold in the grated parmesan until well incorporated. Use in your desired pasta or dinner recipe.