It's not a coincidence I'm sharing this recipe for Mexican Fish Soup (Caldo de Pescado) on the First Friday of Lent. Growing up in a Mexican-American Catholic household, Fridays during Lent were always known as Fish Fridays. Abstaining from meat on these days, my mom would rotate through fish sticks, soups, grilled cheese, and grilled fish dishes.
As a result, I have an appreciation for this season and now incorporate these same traditions with my own familia. This Mexican Fish Soup, also known as Caldo de Pescado, is ready in 30 minutes which makes this a fantastic dinner option any night of the week.
Ingredients for this Fish Soup
Here is what you'll need to make this flavorful soup:
Dried chiles: we're using guajillo and ancho here to give this a smoky warmth and subtle spice. I love these dried chiles from Olé Rico.
Canned whole peeled tomatoes: this is going to help us create a tomato base for the sauce when we purée them with the dried chiles.
Fish and shrimp: it wouldn't be a Mexican Fish Soup without fish. Let's go with wild caught cod here and we're also adding some delicious wild caught pink shrimp. You can also opt for tilapia or halibut here but the key is to use a firm white fish so it doesn't fall apart in the soup.
Fresh fish stock: If you can purchase some fresh stock from your local fish monger, this would be fantastic. If not, in the words of Ina Garten: "store bought is fine." Here is a brand I like. The fish stock really elevates the flavor of the fish soup so while you can also use vegetable stock, really try to see if you can find some fish stock. I'm also working on a recipe for fresh fish stock to share here soon.
We'll use classic vegetables here: carrots, celery, onion, and potatoes to add a little more heft to the soup and make this a rounded out meal.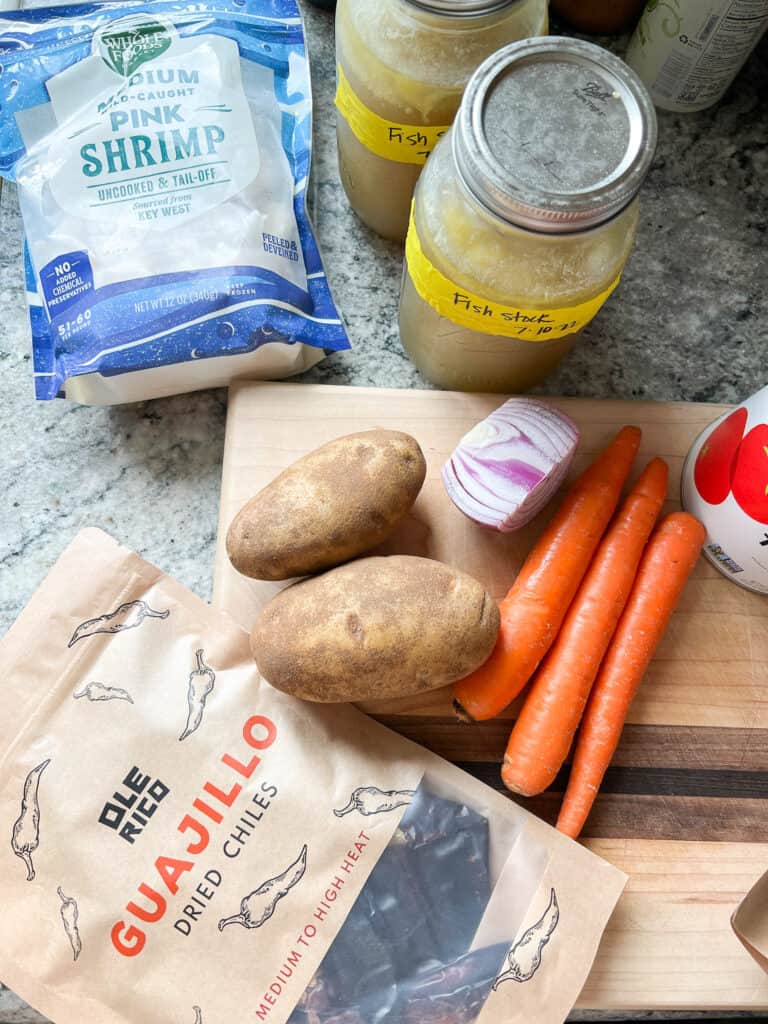 A Soup That's Ready in 30 Minutes
The best part of this dish is that it's ready in 30 minutes. First, you'll want to soak your dried chiles in a bowl of boiled water to help them soften. Then you'll prep the rest of the tomato base using a food processor to blend it all up. Once you've begun cooking up your vegetables, add in the tomato base and fish stock along with the remaining dried herbs and the soup will do the rest. At the final step, you'll add in the fish and shrimp as it won't take long for them to cook and you don't want them too tough in the soup.
Serve it up with some warm tortillas and this is a comforting meal to ring in the first Fish Friday of Lent–or any day of the week.
Share Your Soup!
I hope you'll give this recipe a try. And, if you do, let me know how it goes! Tag me on Instagram to share your creations. I'd love to see them! In the meantime, cheers to the next nourishing meal!
Wishing all those observing a nourishing and fulfilling Lenten season ahead. 💜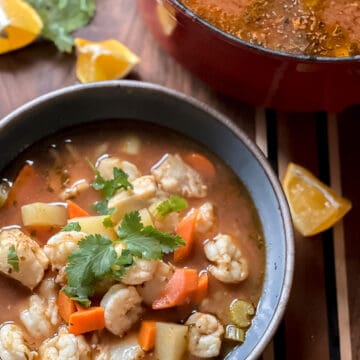 Mexican Fish Soup (Caldo de Pescado)
A popular dish during the Lenten Season, this fish stew is made with a flavorful tomato broth and fish stock. Ready in 30 minutes this will warm your heart and tummy on cold nights.
Ingredients
4

fillets of cod

about 1.25 pounds cut into chunks

12

ounces

uncooked shrimp

option for peeled and deveined or keep whole shell on

2

russet potatoes, peeled and diced into 1/2 inch chunks

2

medium carrots, peeled and diced into 1/2 inch chunks

3

celery stalks, diced into 1/2 inch chunks

6

cloves

garlic, peeled

1

dried ancho chile

2

dried guajillo chiles

1 28-

ounce

can whole peeled tomatoes

1/2

red onion, chopped

1/2

teaspoon

black peppercorns

4

tablespoons

olive oil

1

tablespoon

dried Mexican oregano

1

dried bay leaf

2

teaspoons

kosher salt

plus more to taste
Instructions
Bring a cup of water to boil in a small saucepan. Cool slightly. Place dried chiles in a small prep bowl and pour the boiled water over them. Allow chiles to soak and soften, about 10 minutes. Remove from water and remove the stem and seeds (you can leave in a few seeds for added spice or heat as desired).

In the bowl of a food processor, add tomatoes, chopped onion, garlic cloves, and the soaked chiles. Season with a pinch of kosher salt and black peppercorns. Pulse the mixture to create a tomato sauce. Purée until smooth.

Using a medium bowl fitted with a mesh strainer, strain the tomato sauce until smooth. Discard the remaining purée. Set to the side until ready for use.

In a large dutch oven, heat 4 tablespoons of olive oil over medium heat. Add carrots and celery and season with a large pinch of kosher salt and ground black pepper. Cook until softened and translucent, about 3 to 5 minutes.

Add in potatoes, the puréed tomato sauce, fish stock, the dried bay leaf, and 1 tablespoon dried Mexican oregano. Stir everything to combine then bring to a boil. Reduce heat to a simmer to allow the potatoes, carrots, and celery to cook for about 15 minutes until the vegetables are fork tender.

Once vegetables are cooked through, remove the bay leaf and discard. Add in the diced fish chunks and shrimp. Continue to simmer for 5 to 10 minutes more until fish is tender and shrimp has just turned pink. Taste and adjust seasoning as desired.

Ladle soup into bowls. Garnish with cilantro leaves, a wedge of lime, and, if desired, a few dashes of your favorite hot sauce. Serve with a warm pile of fresh tortillas.
Notes
Garnish options: chopped cilantro, lime or lemon juice, hot sauce or salsa of choice